On Monday, October 29, DK Publishing and the LEGO Group will welcome brave Ninja to a world full of adventure, danger, epic battles with the release of the Ninjago Character Encyclopedia which includes exclusive minifigure Green Ninja ZX.
The book is now available for pre-order at Amazon discounted by about 30% off regular price: $12.91 USA | $15.15 Canada |  £10.49 UK | €14,81 France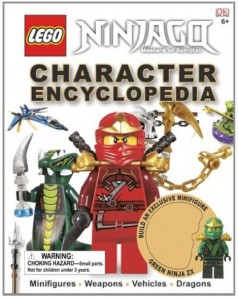 Win the Book for Free!
Get the book before anyone else! DK Publishing and The LEGO Group will be sponsoring two Ninjago Character Encyclopedia. Fill out our raffle form with your name and country of residence in your email if you would like a chance to win one of these books. Raffle runs until October 17 at 21:00 PST. Like all other contests and raffles, Standard Rules apply. Raffle is open to all countries worldwide except where prohibited.