Forum member dirtgypsy informs us that the upcoming LEGO Ninjago Character Encyclopedia is now available for pre-order at Amazon US for $12.91 (reg.$18.99). Available beginning October 19, 2012. The exclusive minifigure will be a Green Ninja ZX.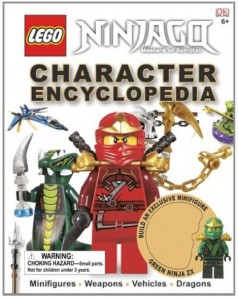 LEGO Ninjago Character Encyclopedia
Contains an EXCLUSIVE minifigure for you to put together!
Sensei Wu's ninjas may work together, but they are actually all very different and unique. Little ninjas everywhere can now learn everything there is to know about their favorite Masters of Spinjitzu in DK's LEGO® Ninjago: Character Encyclopedia.
Each beautifully illustrated spread features tons of fun facts on the different characters, variants of each minifigure, and the various vehicles, weapons, and locations that make up the LEGO Ninjago world. Additional pages will be included featuring special events from the new animated series on Cartoon Network, making this book the perfect addition to every LEGO lover's collection!