LEGO Ninjago is celebrating 10 years. 2011 was the year when LEGO Ninjago all started. LEGO is celebrating Ninjago with Legacy sets and apparel collaborations.
LEGO Ninjago 10th Anniversary Celebration Press Release
The LEGO Group calls on all masters of Spinjitzu to celebrate a decade of LEGO® NINJAGO® with the launch of a LEGO retail exclusive set, exciting collaborations and a nostalgic look back at some of the theme's key milestones.
In 2011, the LEGO NINJAGO journey started and changed the lives of children all over the world. Today, the LEGO Group is commemorating ten years of the beloved range that continues to inspire children and teens to re-enact and build epic scenes while developing their ninja skills.
Many kids have grown up with LEGO NINJAGO and the LEGO NINJAGO® Masters of Spinjitzu television series, where Master Wu and the ninja Kai, Cole, Zane, Jay, Lloyd and Nya have taught them valuable lessons about life, while using their courageous ninja skills to fight the forces of evil.
In a world where many children and young adults feel insecure and an intense pressure to live up to expectations, NINJAGO has taught fans how to master ninja skills or "Be Ninja" in real life, teaching them values of inclusivity, friendship, confidence, and staying true to oneself. Through its stories and morals, as well as its building and play experiences, NINJAGO has positively influenced fans and helped them navigate the path into young adulthood and its many challenges. "There comes a time when we all must grow up. When that time comes, it's important not to forget the lessons of our childhood. Because our childhood is the greatest training ground one will ever have." – Master Wu.
''It has been an amazing journey to see a product range turn into something that kids have enjoyed for 10 years," says Michael Svane Knap, Design Manager at the LEGO Group, who has been working on the LEGO NINJAGO product line since 2013. "Some have grown up with LEGO NINJAGO and are now expressing their gratitude and telling us how they have learned lifelong skills. In my opinion, that is the best thing about LEGO NINJAGO. Kids learn about friendship, confidence and much more… And of course, that ninjas are cool!'' he adds.
Beyond the pilots and 13 TV show seasons and several mini-movies, the franchise has included an abundance of different LEGO sets and merchandise, several video games and app games, a movie, magazines, colouring books, graphic novels, children's books, hotel rooms and a theme park ride at LEGOLAND.
"Originally, the NINJAGO theme was supposed to end after season 2 in 2012," says Tommy Andreasen, Sr. Manager, Entertainment Development at the LEGO Group, who worked on the LEGO NINJAGO product line and show from the beginning. However, sets of the theme were still planned to be on sale throughout 2013. The continued success led to both the TV series and products continuing to the current day. "It just shows an incredible commitment from our fans that we are still going strong 10 years later," he adds.
Marking the 10th anniversary, the LEGO Group is releasing 11 LEGACY sets throughout 2021. As an added bonus, six of the LEGACY sets come with a limited edition collectible golden ninja minifigure. February 1st sees a LEGO retail exclusive three-level LEGO NINJAGO City Gardens set launch as a true tribute to a decade of NINJAGO. The set showcases some of the main moments of the TV series and includes a golden master Wu.
Moreover, the LEGO Group is teaming up with stylish streetwear and clothing brands to create special anniversary merchandise collections. The first collaboration is LEGO NINJAGO x HYPE., which was revealed last week and will launch on January 15th. The inspiration behind the streetwear collection was the futuristic and colourful city 'the Prime Empire' from the 2020 LEGO NINJAGO TV series. Exciting collaborations with several other clothing brands will be coming soon and are not to be missed.
On 
www.LEGO.com/ninjago10anniversary
 there will be anniversary content telling the story of LEGO NINJAGO through the years and showcasing amazing fan created content including fan art, LEGO builds and toy photography. LEGO House will also mark the occasion by hosting an in-depth exhibition celebrating ten years of NINJAGO fandom.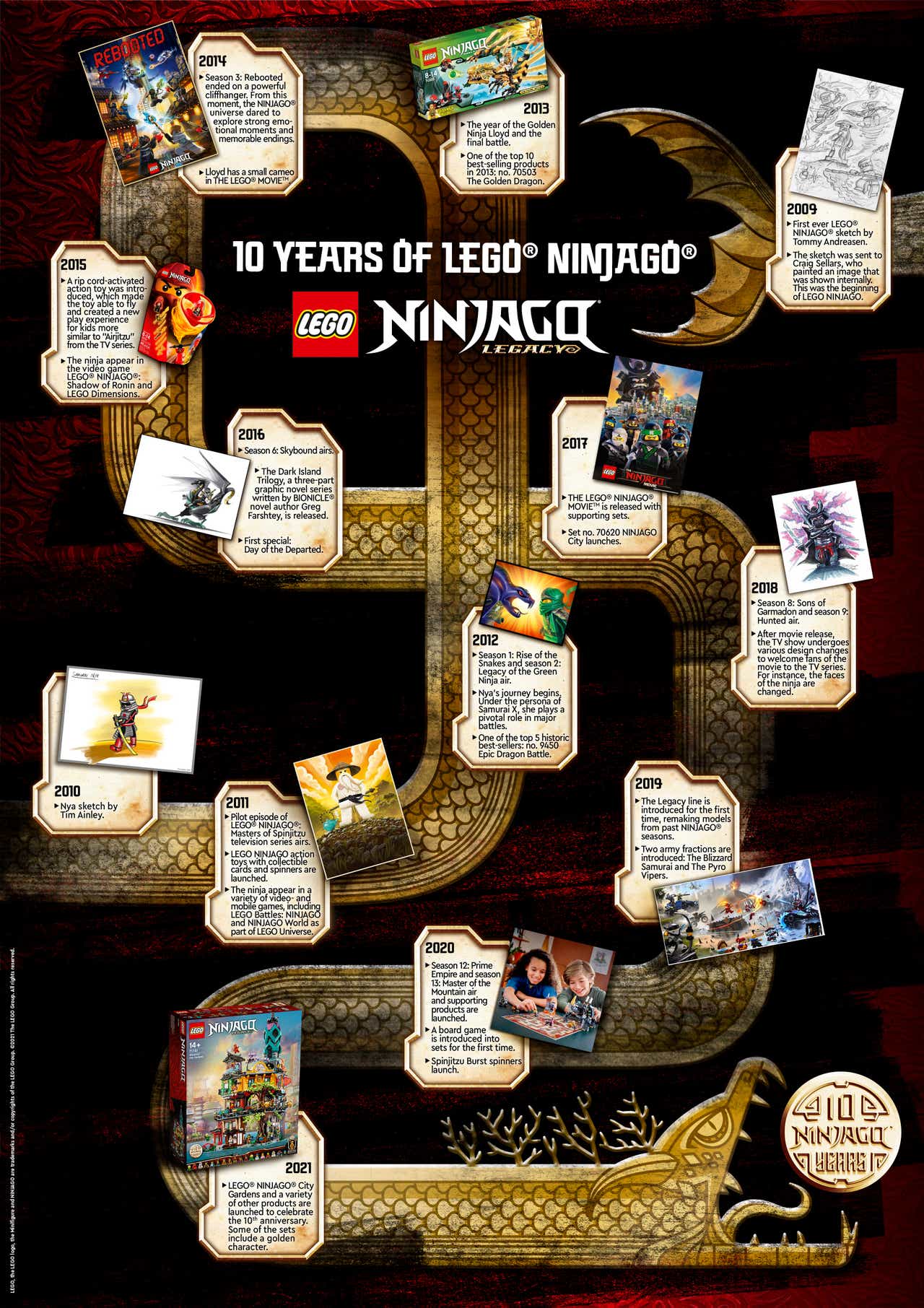 Sets being released to mark the anniversary
Marking the 10th anniversary, the LEGO Group is releasing a total of 23 LEGO NINJAGO sets.
11 LEGACY sets are released throughout 2021, 8 of them have already been released on January 1st (4 iconic LEGACY sets and 4 LEGACY Epic Battle sets), 1 retail exclusive LEGACY set is releasing on February 1st (a three-level LEGO NINJAGO City Gardens set, as a true tribute to the last decade of NINJAGO) and the final 2 sets will be released in June. Moreover, 4 sets linked to the TV series will be released in March and another 5 sets in June. There will also be 3 LEGO NINJAGO sets for ages 4+ launching in March and June.
Exceptional for 7 of the 11 anniversary LEGACY sets is that they come with a limited edition collectible golden minifigure depicting one of the 6 hero ninja or Master Wu.
Full overview of sets and their names:
6 Iconic LEGACY sets (with limited edition golden ninja). The following four are released on January 1st 2021:
(71735) LEGO® NINJAGO® Tournament of Elements
(71736) LEGO® NINJAGO® Boulder Blaster
(71737) LEGO® NINJAGO® X-1 Ninja Charger
(71738) LEGO® NINJAGO® Zane's Titan Mech Battle
2 further sets are launching in June
1 LEGO Retail exclusive LEGACY set with a limited edition golden Wu: (71741) LEGO® NINJAGO® City Gardens.
4 LEGACY Epic Battles sets that look back into memorable battles between hero characters and main villains. Released on January 1st 2021.
(71730) LEGO® NINJAGO® Epic Battle set – Kai vs. Skulkin
(71731) LEGO® NINJAGO® Epic Battle set – Zane vs. Nindroid
(71732) LEGO® NINJAGO® Epic Battle set – Jay vs. Serpentine
(71733) LEGO® NINJAGO® Epic Battle set – Cole vs. Ghost Warrior
4 New TV Show sets released in March:
(71745) LEGO® NINJAGO® Lloyd's Jungle Chopper Bike
(71746) LEGO® NINJAGO® Jungle Dragon
(71747) LEGO® NINJAGO® The Keepers' Village
(71748) LEGO® NINJAGO® Catamaran Sea Battle
As well as 5 TV show sets that will be launched in June
3 NINJAGO sets for ages 4+ (1 launching in March and 2 in June).
How it all started
Late on a Friday in fall 2009, a drawing was made that would be the beginning of something big. Tommy Andreasen did a sketch showing different elemental ninja and the team had the idea of the ninja being on a sort of spinners to make an active minifigure play.
On the drawing you see a ninja of water, though that ended up not being added until Nya became the master of water in 2015. The sketch has the word 'Spinjago' on it, which was the first idea of a name, which then developed into 'Spinjitzu' – a combination of the words 'spin' and 'ninjitsu'.
The 'NINJAGO' name was also a combination of the words 'NINJA' and 'GO' which was taken from the end of the LEGO Group company name. It was also thought to be a great battle cry.
TV series
2021 marks the 10 year anniversary of the NINJAGO television series, as it has been in production since the release of the first pilot episode in 2011. Originally, the NINJAGO theme was supposed to end after season 2 in 2012 and sets sales after 2013. However, the continued success led to both the show and products continuing. This milestone reflects the continued popularity of the show amongst its audience. In 2021 we will be launching season 14 which pays tribute to the voice actor Kirby Morrow, who sadly passed away recently after voicing Cole for many years.
In NINJAGO there isn't one lead character, it's about the team. But since the beginning, every season has had a different character focus, helping the kids to learn more about each individual character. The focus of the 2021 storyline is Nya and her elemental powers.
Video games
The ninja appears as playable characters in a wide variety of video games and mobile games, including LEGO Battles: NINJAGO (2011), LEGO NINJAGO: Nindroids (2014), LEGO NINJAGO: Shadow of Ronin (2015), LEGO Dimensions (2015), LEGO Worlds (2017), The LEGO NINJAGO Movie Video Game (2017), LEGO Brawls (2019) and LEGO Legacy: Heroes Unboxed (2020).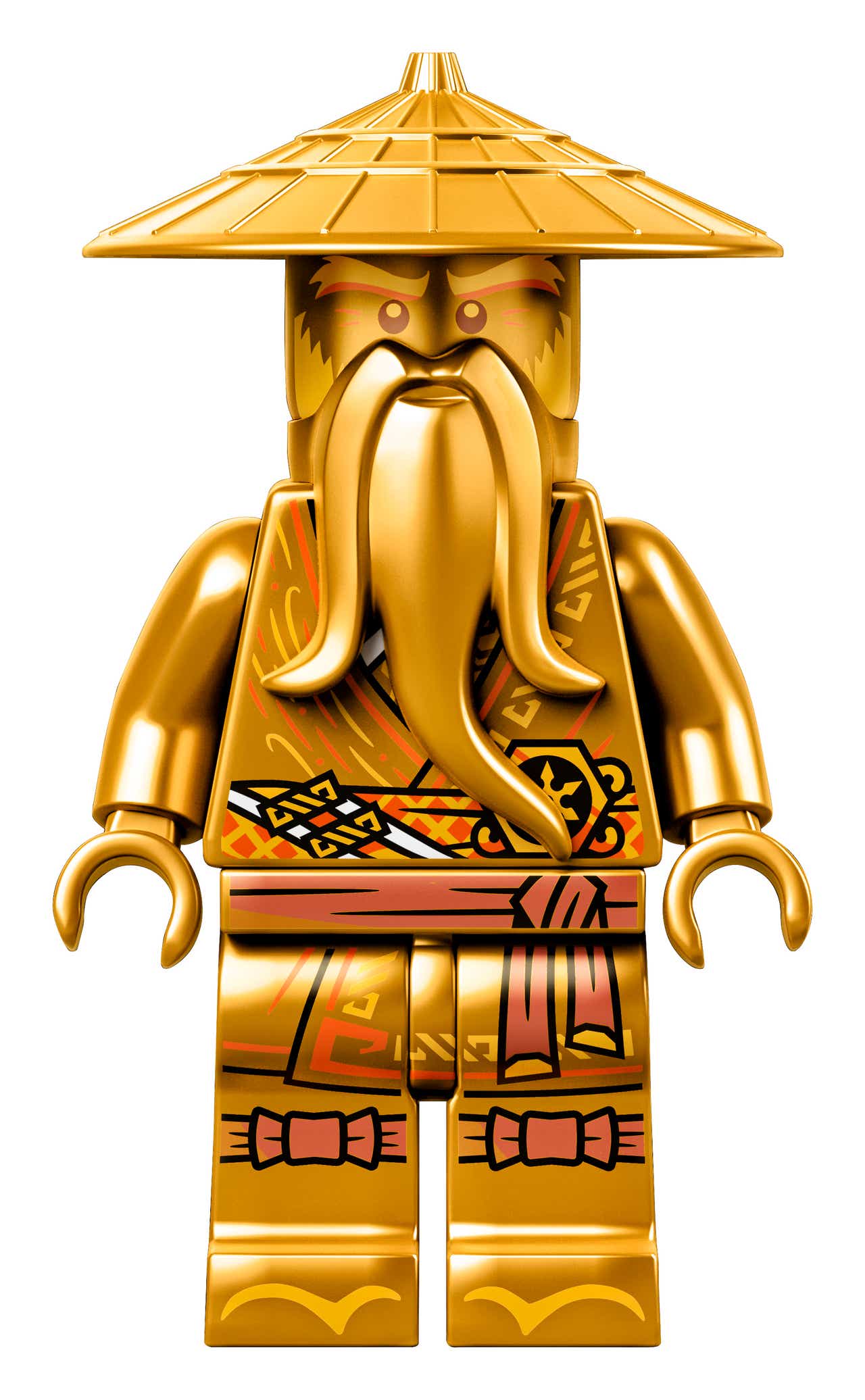 Toys N Bricks is your destination for the latest and hottest LEGO News, Sales News, Creations and Reviews! (www.toysnbricks.com)
Visit the Toysnbricks LEGO Forums for LEGO Related Discussions. Registration is free.
Subscribe by Email and Follow Us on Facebook, Twitter, Instagram and Flickr.