The two new 2012 LEGO Minifigure Accessory packs that were previously revealed are now available for sale at LEGO Shop at Home United States and Canada. Thanks to forum member h-7 for the heads up.
LEGO Rock Band Minifigure Accessory Set 850486 ($14.99 USA | $18.43 Canada)
Put together your own LEGO® Rock Band! Put your LEGO® Rock Band in the spotlight and get ready to make some noise! Build a concert scene with a small drum set, speakers and spotlights then, drum roll, please, let the show begin! Includes 58 elements and 3 minifigures in rocker gear.
Includes 3 minifigures with accessories
Build a drum set!
Set up the speakers!
Aim the spotlights!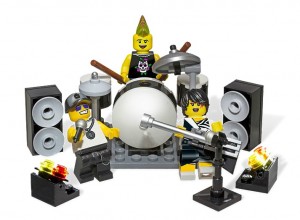 LEGO Halloween Accessory Set 850487 ($14.99 USA | $18.43 Canada)
Go batty over the Halloween Accessory Set! Scare yourself silly with the LEGO® Halloween Accessory Set! Build a haunted graveyard scene with creepy tombstone, rat, bat, spider and 2 snakes.
Features buildable tombstone
Let the bat "hang" on top of the tombstone!
Rattle the ghost's chains!
Take the witch for a ride with her broom!
Makes a great gift for LEGO® fans!
Follow and like Toys N Bricks: