LEGO Star Wars will see a new theme known as LEGO Constraction. In other words, they are buildable characters from Star Wars (similar to Ultrabuild Super Heroes).
75111 LEGO Star Wars Darth Vader & 75110 LEGO Star Wars Luke Skywalker are two new sets being revealed. There will be other buildable Constraction LEGO Star Wars sets. Price range will be from $19.99 to $29.99. The sets will be available for sale beginning September 2015.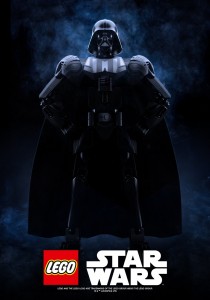 First LEGO® Star WarsTM  Large scale Buildable Figures Unveiled at New York Toy Fair
Expanding the way children can build and play within the Star Wars universe, new large scale Buildable Figures unveiled  – sets featuring, among others, Darth Vader and Luke Skywalker ($19.99  & $29.99 to be launched in September).  Additional Buildable Figures in the collection will be unveiled throughout the year. The Battle for the galaxy will get bigger!