As reported over at Smashing Bricks, new LEGO DK Books will be coming out in 2013 (thanks anthonyj8) including a new line known as LEGO Star Wars: The Yoda Chronicles. Available August 2013. This book will talk mainly about the Jedi Master Yoda and his battles, training and adventures. A new exclusive LEGO Star Wars minifigure will also be included in this book. I'm guessing a special edition version of Yoda.
LEGO Star Wars The Yoda Chronicles Book
In addition, DK will also be releasing a new character Encyclopedia. This time, its the LEGO Minifigures Character Encyclopedia. Available May 2013. Facts and information will be provided for every single LEGO Collectable Minifigure from Series 1 to Series 10 (total of 160 minifigures). Price will be $18.99 USD and will contain 208 pages. As always, it will also include an exclusive LEGO minifigure.
LEGO Minifigures Character Encyclopedia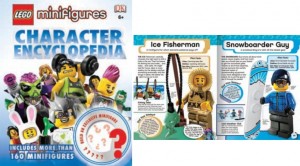 *Although not page information besides a page count of 96 pages, a new LEGO Legends of Chima Brickmaster Book will also be released sometime in 2013.
Forum Discussion: LEGO Star Wars The Yoda Chronicles  |  LEGO Minifigure Character Encyclopedia | LEGO Legends of Chima Brickmaster
Follow and like Toys N Bricks: