The February 2021 LEGO Store Calendar is now out! We now get to have a look at the February 2021 LEGO Offers, Promotions and Events happening. The LEGO February 2021 calendar is from the United States, but the offers should be valid at other LEGO Shop at Home countries (USA | Canada | UK | Australia) too. Of course, there will be slightly different purchase requirement thresholds.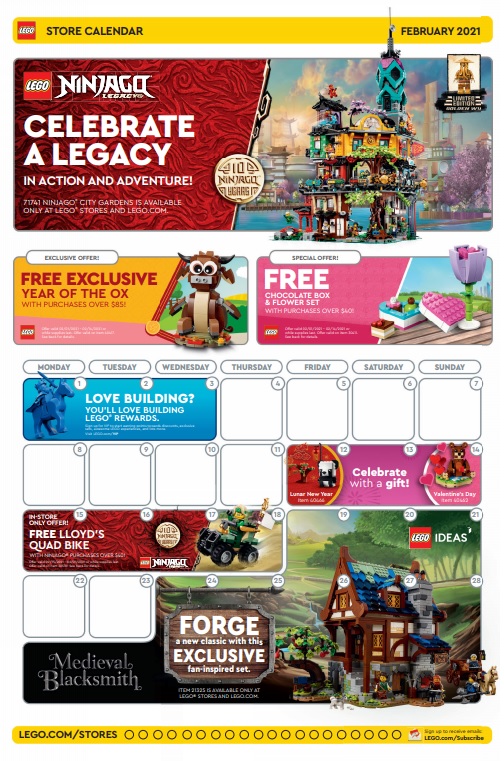 Two new awesome LEGO Hard to Find sets will be released in February 2021.
This includes the LEGO IDEAS 21325 Medieval Blacksmith set. The LEGO set contains 2164 pieces and price for the set is $149.99 USD / $199.99 CAD / £134.99 GBP / $249.99 AUD. This is going to be a popular set for LEGO castle fans.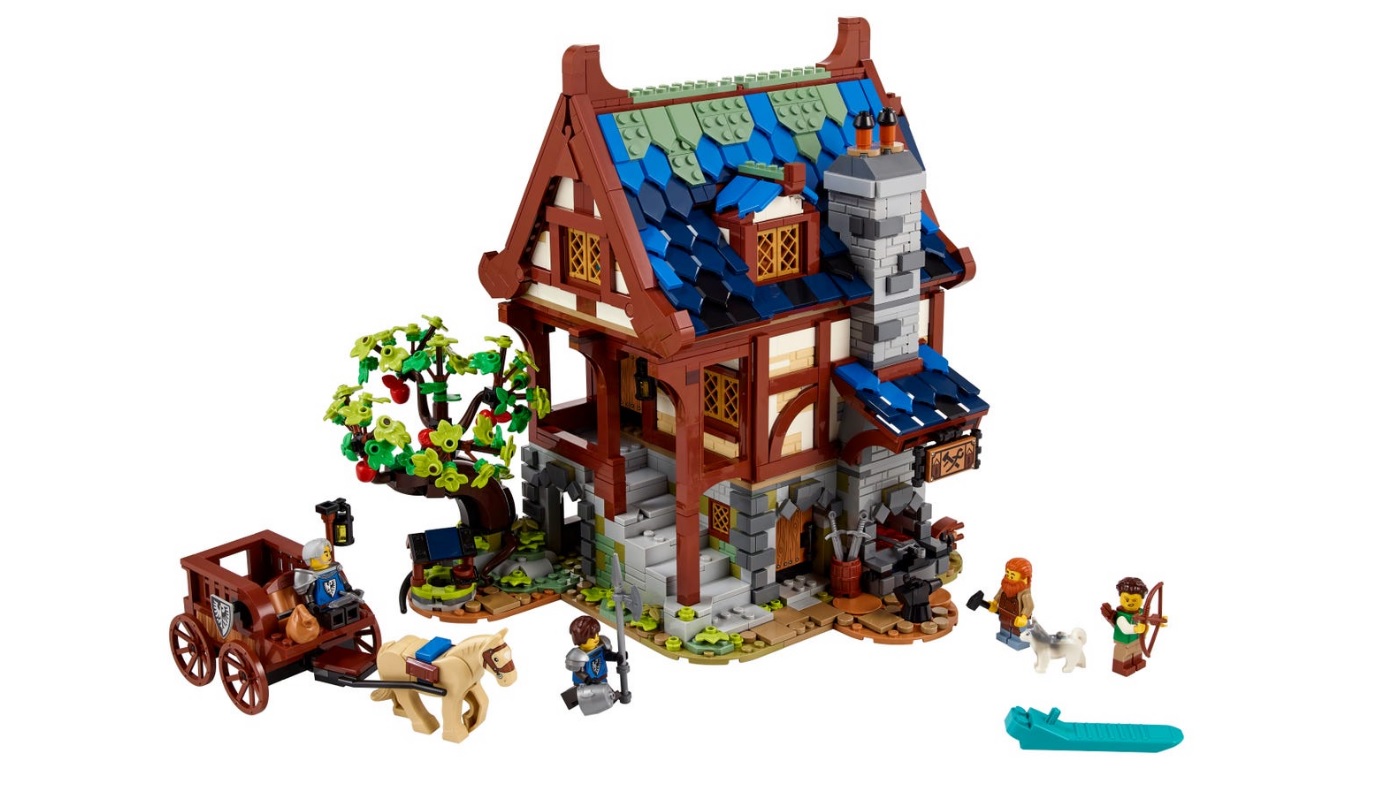 The second set to be released in February 2021 is the LEGO 71741 Ninjago Legacy City Gardens. This was available for early access to LEGO VIPs earlier. However, the set is now officially released to the public. Price for the set is $299.99 USD / $399.99 CAD / £274.99 GBP / $499.99 AUD. This is one of the best LEGO Ninjago sets ever created!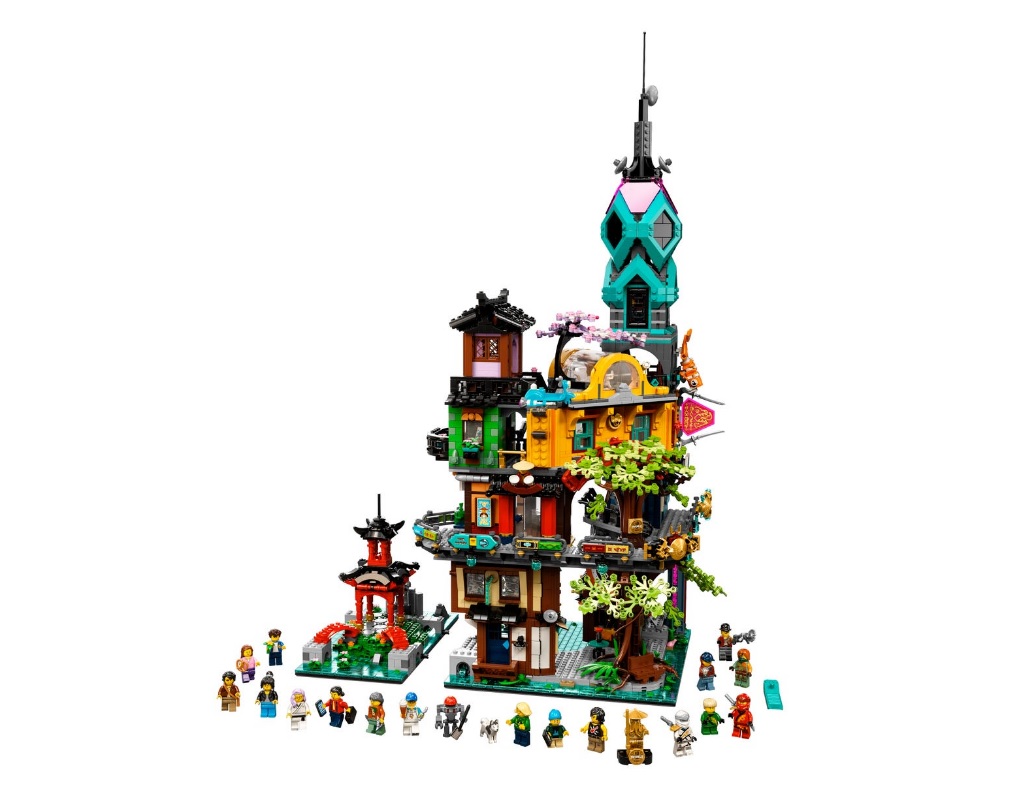 In terms of LEGO promotions and offers for February 2021, there's a few available.
To celebrate LEGO Chinese New Year and Lunar New Year 2021, LEGO will be offering a free exclusive LEGO 40417 Year of the Ox set with purchases over $85. Valid from February 1-14, 2021.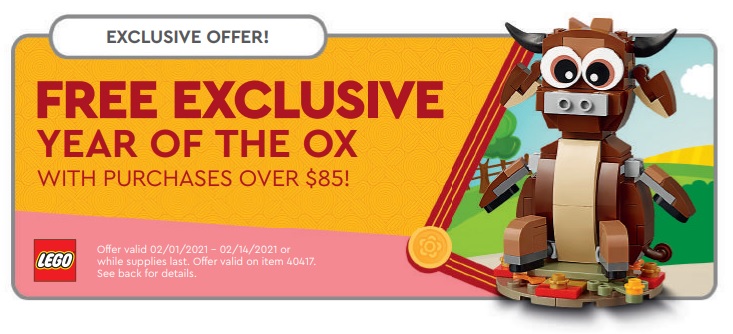 For LEGO Valentine's Day 2021, LEGO will be offering a free LEGO 30411 Chocolate Box & Flower Set with purchases over $40. The Chocolate Box set can fill some cute LEGO chocolates and you also get a nice flower as well. This would make a great gift for Valentine's Day. Valid from February 1-14, 2021.
Finally, the last LEGO offer and promotion for February 2021 is the LEGO Ninjago 30539 Lloyd's Quad Bike. It is available at LEGO Brand Retail Store locations only. You get this free when you spend $40 or more on LEGO Ninjago products. Valid from February 15-21, 2021.
LEGO offers and promotional gifts are usually only while supplies last. Sometimes, they can sell out within a few days like the January 2021 LEGO promotion on the LEGO Ideas 40448 Vintage Car Promo Gift Set.

You can see the full February 2021 LEGO Brand Retail Store Calendar at the official LEGO website. Don't forget that if you are a LEGO VIP member, you get VIP points for purchases at LEGO Shop at Home (USA | Canada | UK | Australia).
Toys N Bricks is your destination for the latest and hottest LEGO News, Sales News, Creations and Reviews! (www.toysnbricks.com)
Visit the Toysnbricks LEGO Forums for LEGO Related Discussions. Registration is free.
Subscribe for Free by Email and Follow Us on Facebook, Twitter, Instagram and Flickr.