A brand-new LEGO Technic set has been revealed. Known as LEGO 42107 Ducati Panigale V4R Motorcycle, the set will be available Summer August 1, 2020. The set contains 646 pieces. Retail price will be $69.99 USD / $99.99 CAD / £54.99 GBP. Available exclusively at LEGO Brand Retail Stores and LEGO Shop at Home (US | Canada | UK). Additional images and video can be found on LEGO Shop at Home by searching 42107.
LEGO 42107 Press Release
[Billund, Denmark 17th April 2020] Today, the LEGO Group revealed its latest LEGO® Technic model; the Ducati Panigale V4 R, boasting the style, sophistication and performance of the ultimate superbike.
The new model is a spectacular replica of the iconic Italian motorcycle, combining LEGO® Technic and Ducati design DNA to recreate the curves and aerodynamic form of the two-wheeled wonder. Just like the visionary motorbike does in real life, the LEGO version transports LEGO builders to new heights as they easily act out the tight turns and fast straights that the bike can easily navigate thanks to its powerful engine.
Those that have ever imagined riding this iconic Italian-engineered motorcycle, will love building this LEGO® Technic Ducati Panigale V4 R set. Builders can discover how the innovative 2-speed gearbox activates the V4-cylinder engine and marvel at the futuristic rear and front suspension before taking the model out for a spin of their own once complete. The model's unique kickstand means that builders can park the superbike model up and proudly put it on display it once it has been put through its paces.
The LEGO® Technic Ducati Panigale V4 R is the first motorcycle model in LEGO® Technic history to include a gearbox that allows builders to navigate through different speeds. Other awesome features include realistic steering, suspension to help with high-octane action and front and rear disc brakes. An exhaust pipe, a windshield and a dashboard are also some of the small details that make this replica model so true to the full-size version. And of course, the classic red colour is sure to accelerate the pulse of any Ducati fan.
"The Ducati Panigale V4 R is such an elegant Italian icon and a true technological masterpiece." commented Aurélien Rouffiange, Senior Designer at LEGO® Technic. "It was essential that I included as many authentic details from the real motorbike as I could when designing the new LEGO® Technic version, ensuring I captured all the bike's curves and the unique features. Just as Ducati continually pushes boundaries in its design, we demonstrated what the LEGO® Technic range is capable of by engineering a fully functioning motorcycle gearbox for the first time and connecting it to the spinning V4 cylinder engine using existing pieces."
"We have all been kids passionate about LEGO bricks and I think it is easy to understand that this new licensing agreement between Ducati and the LEGO Group is like a dream come true. We are two brands that share the same values of dedication, passion and attention to detail – values that have come together to give life to a unique building experience" said Alessandro Cicognani, Ducati Licensing Director. "Our hope is that the Ducati Panigale V4 R LEGO® Technic can bring together, excite and entertain not only children and parents, but also all the fans who ride their motorcycles every day."
With the realistic features of the LEGO® Technic Ducati Panigale V4 R, builders of all ages can immerse themselves in the world of engineering, as they discover how gear mechanisms work and the engine functions.
The LEGO® Technic Ducati Panigale V4 R model is designed for fans aged 10+ and will be available from LEGO.com from August 1, 2020.
This new model is the first to be created after a licensing agreement was recently signed between the LEGO Group and Ducati Motor Holding.
Notes to Editors
42107 – LEGO® Technic Ducati Panigale V4 R
RRP USD 69,99/ EUR 59.99
Aged 10+
646 pieces
Measures over 12" (32cm) long, 6" (16cm) high and 3" (8cm) wide
Product available direct from LEGO Online and LEGO Retail Stores
About Ducati Motor Holding S.p.A. – A Sole Shareholder Company – A Company subject to the Management and Coordination activities of AUDI AG
Founded in 1926, since 1946 Ducati has been manufacturing sport-inspired motorcycles characterised by high-performance Desmodromic engines, innovative design and cutting-edge technology. With its factory located in Bologna's Borgo Panigale district, in 2016 Ducati celebrated 90 years since its foundation. The model range covers several market segments with the following families: Diavel, XDiavel, Hypermotard, Monster, Multistrada, SuperSport, Panigale and Streetfighter. In 2015, Ducati presented the Ducati Scrambler: a new brand made of bikes, accessories and apparel that that stands out for its creativity and self-expression.
In 2017, Ducati presented the Panigale V4, the first Ducati production bike to mount a 4-cylinder engine derived directly from the Desmosedici GP engine. Ducati iconic motorcycles, together with an extensive range of bike accessories and technical and lifestyle apparel, are distributed in 90 countries worldwide. In 2019 Ducati delivered 53,183 bikes to customers, consolidating its sales over the 50,000-bike threshold for the fifth year running. Ducati competes in both MotoGP and Superbike World Championships. It has been competing in MotoGP since 2003, winning both the Manufacturers' and Riders' titles in 2007, while in Superbike Ducati has won 17 Manufacturers' titles and 14 Riders' titles.
LEGO Technic 42107 Ducati Panigale V4R Motorcycle Product Description
Style, sophistication, performance. With breathtaking looks, this LEGO® Technic 42107 Ducati Panigale V4 R captures the spirit and design of the original. It's the first model motorcycle in LEGO Technic history to include a gearbox for exploring different speeds and techniques. Other amazing features include steering, front and rear suspension for realistic movement, plus front and rear disc brakes. Amazing details capture the spirit of Ducati Ducati fans will appreciate the attention-to-detail in this amazing motorcycle replica. A kickstand, exhaust pipe, windshield and dashboard add the little details that make this model toy so true to the full-size version. And of course, the classic red color scheme is sure to quicken the pulse of any Ducati fan. Build and learn with LEGO Technic model toys As part of the LEGO Technic universe, this motorcycle model kit provides an immersive and rewarding building experience. With realistic features, it introduces builders to the world of engineering, as they discover how gear mechanisms work.
A representation of the famous Ducati Panigale V4 R to build, explore and display. LEGO® Technic™ fans and motorcycle enthusiasts will love this stunning building challenge.
Build your own Ducati Panigale V4 R to gain a unique insight into the features and functions that make up this iconic motorcycle. Also includes a 2-speed gear-box – a first for LEGO® Technic™ motorcycles.
Recreate the thrill of owning a Ducati Panigale V4 R, with front and rear suspension for realistic model movement. The classic red color scheme brings the motorcycle to life, with true Italian flair.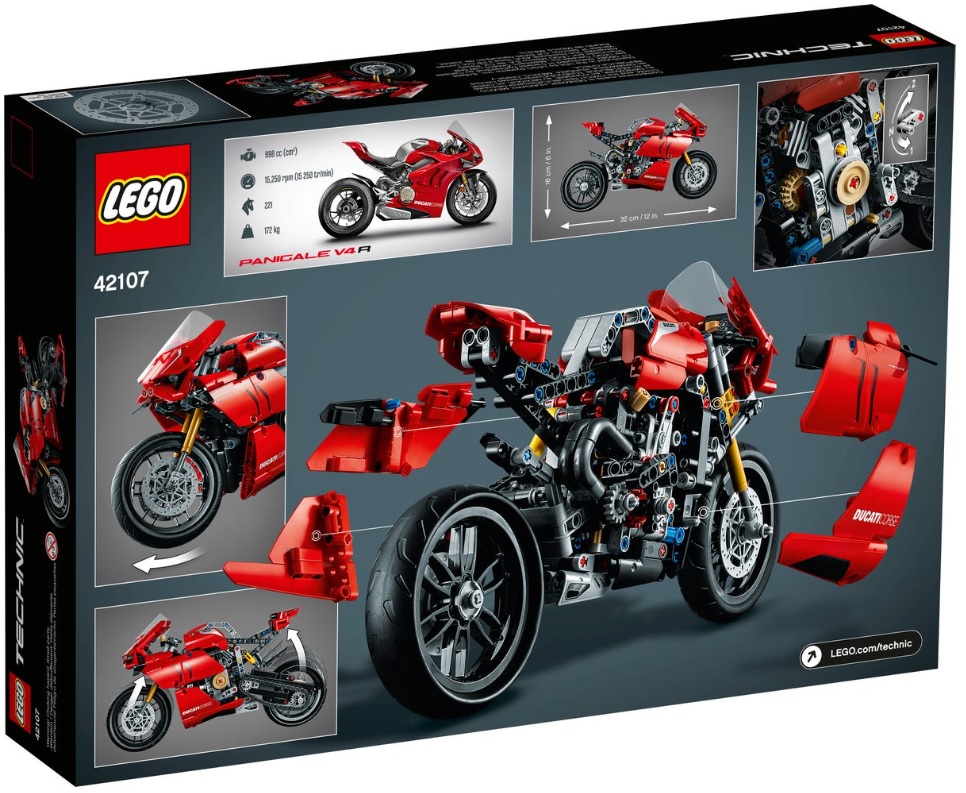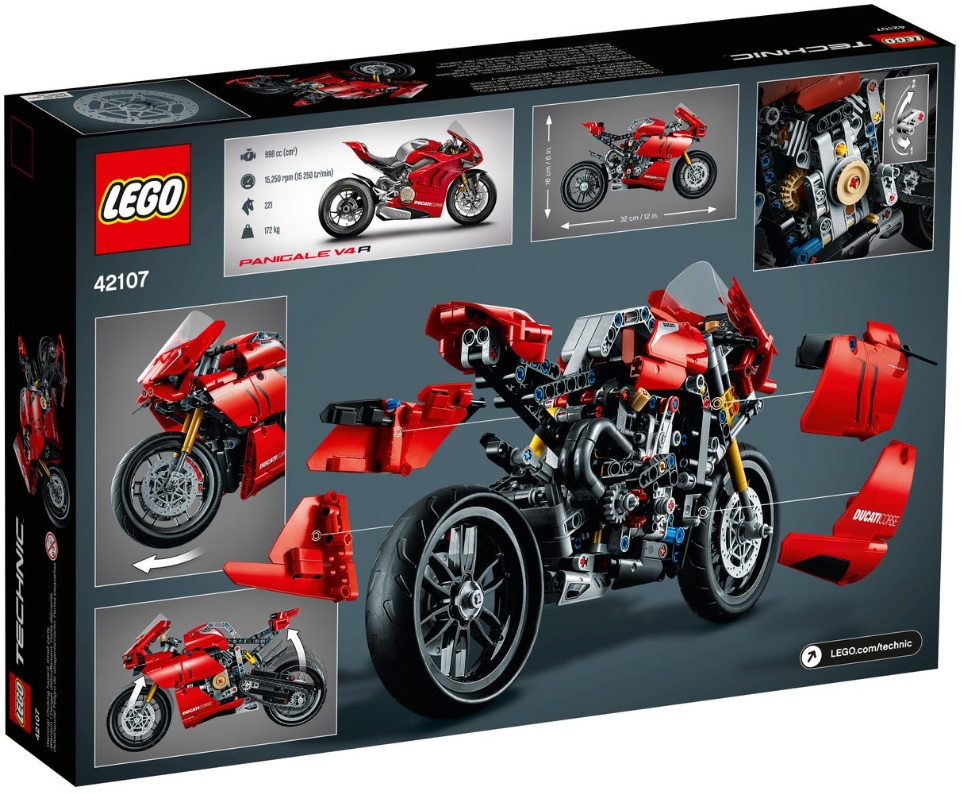 Looking for the best gifts for motorbike fans? This is a great choice. It's also a super challenge for LEGO® Technic™ fans aged 10+ who will get a thrill from seeing how a motorcycle works.
This eye-catching model (42107) looks stunning on display. Its dimensions have been designed to give a true representation of the real-life model. Measures over 12" (32cm) long, 6" (16cm) high and 3" (8cm) wide.
No batteries are needed for this Ducati motorbike toy. Passion, imagination and a desire to discover something new are all you need.
It's easy to get started with this amazing LEGO® set. Just open the box and you'll find easy-to-follow instructions so building the Ducati toy motorcycle can begin straightaway.
LEGO® Technic™ engineering toys are designed to provide an immersive and rewarding building experience, featuring realistic movement and mechanisms to help kids and adults explore the world of engineering.
Quality is important. So, it's good to know LEGO® building kits meet the highest industry standards ensuring they connect easily every time – it's been that way since 1958.
LEGO® Technic™ plastic model toys are put through their paces. Each one is thoroughly tested to make sure every building toy meets the highest global safety and quality standards.
Toys N Bricks is your destination for the latest and hottest LEGO News, Sales News, Creations and Reviews! (www.toysnbricks.com)
Subscribe by Email and Follow Us on Facebook, Twitter, Instagram and Flickr
Follow and like Toys N Bricks: