Update: Thanks to forum member sidersdd for the pictures and H.F. James for sending the news in.
Images for the LEGO Architecture 2012 set Villa Savoye 21014 are now available! The actual landmark can be found at Poissy, France. Unfortunately, the set is no longer available for sale at Amazon. If you want one, you will probably need to wait until September 2012. Thanks to H.F. James for the pictures.
LEGO 21014 Villa Savoye (Front)
LEGO 21014 Villa Savoye (Back)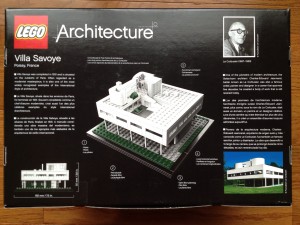 LEGO Product Description
Recreate the Villa Savoye within a building set featuring the iconic details of this modernist marvel famous for blending with nature!
Booklet included with details on design and history (English language only. Other languages available for download)
LEGO® Architecture inspires future architects, engineers and designers as well as architecture fans around the world using the LEGO brick as a medium for reproducing esteemed structures
Measures 3.6″ (9.2cm) tall, 7.5″ (19.2cm) wide and 6.9″ (17.5cm) deep
Collect the entire Landmark and Architecture series!