LEGO VIP Rewards Center (USA | Canada | UK | Australia) has added several new LEGO reward items for March 2021. There is also a March 2021 LEGO VIP Rewards Sweepstake as well. The focus is on the new LEGO VIDIYO music theme.
LEGO VIDIYO Character Digital Asset Packs
There are various LEGO VIDIYO character digital asset packs. These digital packs contains downloadable VIDIYO merch including digital watch faces, desktop wallpapers, mobile wallpapers and more.
In order to get these LEGO VIDIYO character digital asset packs, you will need a LEGO VIDIYO VIP Virtual Access Code. It cost 50 LEGO VIP rewards points. The virtual access code also includes one LEGO VIDIYO sweepstake entry.
LEGO K-PAWP Concept Art (Cost 600 LEGO VIP Rewards Points)
There is also a K-PAWP Concept Art which is a limited edition early concept poster (1 of 500) of LEGO VIDIYO. Measures 8.3 inches by 11.7 inches. Once you redeem the item, you'll get a promo coupon code that is redeemable on your next purchase at LEGO Shop at Home (USA | Canada | UK | Australia). Code is valid for 60 days only.
VIDIYO LEGO L.L.A.M.A's Signed Roller Skates Sweepstake Raffle
For 50 LEGO VIP rewards points, you can get this month's LEGO VIP sweepstake. The sweepstake is to enter for a chance to win the roller skates worn by LEGO L.L.A.M.A. It is signed by the artist as well. LEGO March 2021 VIP Sweepstake ends March 31, 2021.
Eligible countries: Canada (excluding Quebec), Estonia, France, Greece, Hungary, Republic of Ireland, Latvia, Lithuania, Luxembourg, Netherlands, Austria, Switzerland, Slovakia, Sweden, United Kingdom, United States. Please note, you are not eligible to enter from the following locations: Canada: Quebec is ineligible.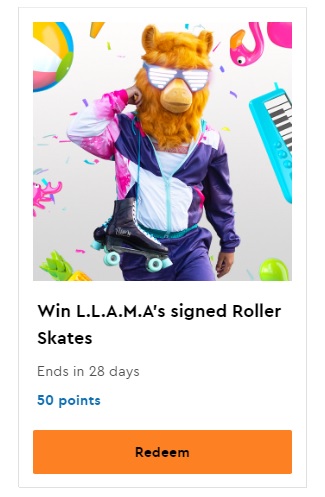 Toys N Bricks is your destination for the latest and hottest LEGO News, Sales News, Creations and Reviews! (www.toysnbricks.com)

Support Toys N Bricks by Buying Toysnbricks Branded Merchandise at ShopToysnbricks.com.
Subscribe for Free by Email and Follow Us on Facebook, Twitter, Instagram and Flickr.