It appears that the LEGO Monster Fighters Zombie Car polybag set has never been seen before. Therefore, here's a closer look at it (picture taken from the Calendar sent by Jonathan). Nice little addition to your Monster Fighters collection as it even comes with a Zombie Driver minifigure!
As previously mentioned, this set will be given away at LEGO Brand Stores and Shop at Home when you spend $75 or more during September.
LEGO Zombie Car Set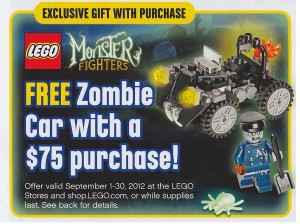 *Note that this is different from the 30200 Zombie Coffin Car polybag set.