The May 2017 LEGO Brand Retail Store Calendar is now out! Most of you know that May is the month where LEGO offers great specials as part of their annual May the 4th promotion. This year, they will be having Double VIP Points on all LEGO Star Wars items. In addition, a variety of LEGO Star Wars sets will be on sale as well. The free gift will be a LEGO Star Wars R2-D2 set when you spend $50 or more on LEGO Star Wars. The May LEGO Star Wars promotion runs from May 4-7.
For in-stores only, you can participate in a minifigure speed building challenge on May 4th, 2017 at 5pm. The fastest builder gets an exclusive free minifigure.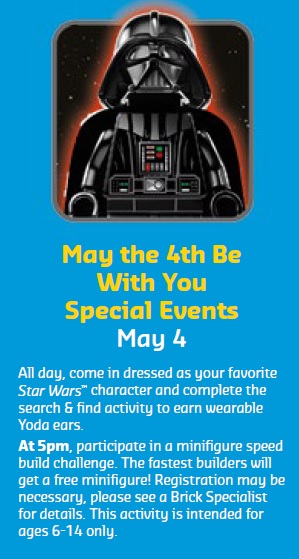 Other offers aside from Star Wars include a free mini LEGO Marvel Super Heroes Milano with purchases of $35 or more. Valid from May 8-21. The monthly mini model build this month would be a mini LEGO sports car. Event date is May 2-3 and is valid for LEGO VIPs only.
There are many more events and offers happening! You can check it all out from the May 2017 LEGO Brand Retail Store Calendar right here.