Forum member Bricks & Blue won a ticket to the event today and has some details regarding it:
You are receiving this email as you have received an invitation to
attend LEGO's Invite Only BIONICLE panel at New York Comic Con on Thursday, October 9th 2014.
In addition to the BIONICLE Panel at New York Comic Con you have also been selected to attend an invite only after-hours event at the new LEGO Store Flatiron District from 7:00 – 8:30 pm. At the event you'll have a chance to meet members of the BIONICLE team, build with the new elements & see the models up close!
murphquake has also posted this exclusive clear LEGO Bionicle Tahu mask. Apparently, they were being given out during the event.
LEGO Tahu Mask Exclusive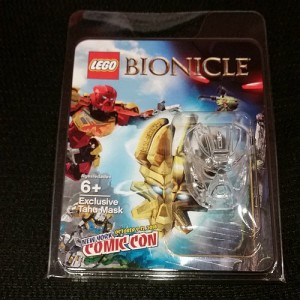 Follow and like Toys N Bricks: