The official press release for LEGO 10246 Detective's Office is now available. The set will be available January 2015. Additional pictures available on Toys N Bricks Flickr Photostream.
10246 Detective's Office
Ages 16+.  2,262 pieces.
US $159.99 – CA $199.99 – DE 149.99€ – UK £132.99 – DK 1399.00 DKK
*Euro pricing varies by country.  Please visit shop.LEGO.com for regional pricing.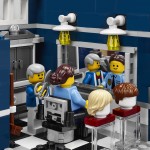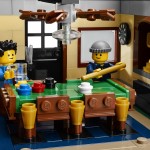 Discover hidden clues and surprises at the Detective's Office!
Discover a world of mystery and adventure with the awesome LEGO® Creator Expert Detective's Office, featuring unique elements and surprises.
Discover a world of mystery and adventure with the LEGO® Creator Expert Detective's Office! Step through the open archway and into the barbershop, where seated customers are pampered in the reflection of a large wall mirror, while next door, competitors play pool and darts beneath the comforting whir of a rotating ceiling fan. Venture to the first floor and you'll find the detective's office, his desk strewn with clues, a safe containing valuable evidence and a concealed wall compartment. Then visit the adjacent bathroom, featuring a classic pull-chain toilet, before taking the stairway to the well-equipped kitchen, from where you can access the roof terrace, complete with large water tower. This latest addition to the LEGO Modular Building series is packed with unsurpassed detail and hidden surprises. Easy-to-remove roof and ceilings provide access to the delightful interior, while the exterior of the building features a decorative roofline and a beautifully designed façade. Can you solve the smuggling mystery? Includes 6 minifigures with assorted accessories: Detective Ace Brickman, Al the barber, dart player, pool player, police woman and a mysterious lady in red.
Includes 6 minifigures with assorted accessories: Detective Ace Brickman, Al the barber, dart player, pool player, police woman and a mysterious lady in red
Features a pool hall, barbershop, detective's office, bathroom, kitchen, water tower and a cat
Detective's office features a desk, assorted clues, brick-built lamp, filing cabinet, fan, safe, painting, concealed wall compartment, newspaper, menu, wanted poster and a wall lamp
Pool hall features a hinged, rotatable ceiling fan, pool table, printed dartboard, pool cues, pool balls and a drinking glass
Barbershop features never-before-seen scissors and reflective mirror element, 2 wall lamps, barber's chair, hinged cabinet, 2 mannequin heads and a broom
Bathroom features a detailed pull-chain toilet
Kitchen features a stove, barrel, table, cabinet, refrigerator, wall clock and a rolling pin
Accessories include Ace Brickman's brimmed hat, briefcase, magnifying glass and a police hat
Detach the roof and floors for easy access
Search for hidden clues
Help Ace Brickman solve the mystery!
Special elements include never-before-seen scissors and reflective mirror element, printed dartboard, wanted poster, 1×1 round plate with hole in black, painter's roller in black, designing element 1x2x2 in dark gray, 1×2 bricks in light blue, 1×3 tiles in brown and a 32×32 base plate in brown
Detective's Office measures over 10" (27cm) high, 9" (25cm) wide and 9" (25cm) deep
Collect and build an entire town with the LEGO® Creator Expert Modular Building series: 10232 Palace Cinema and 10243 Parisian Restaurant
Youtube Designer Video