The official press release for the upcoming LEGO Master Builder Series 18+ UCS Star Wars 75290 Mos Eisley Cantina is now available! Contains 3187 pieces. Price is $349.99 USD / $449.99 CAD / £319.99 GBP. Available September 16, 2020 to LEGO VIPS at LEGO Shop at Home (USA | Canada | UK). General public will have access to the set on October 1, 2020. Additional images also available at LEGO Shop at Home by searching 75290.
LEGO 75290 Mos Eisley Cantina Product Description
Enjoy quality me-time and relive iconic Star Wars: A New Hope moments with the awesome LEGO Star Wars Mos Eisley Cantina (75290) construction model for display. This 3,187-piece Master Builder Series set features the Cantina with lots of authentic details to delight fans, plus attachable buildings to recreate a Mos Eisley city scene.
Build and display
This immersive build is a great way to relax and reconnect with your Star Wars passion. A Dewback LEGO figure and 2 Landspeeders complete a wonderful display piece. Bring your Tatooine scene to life with 20 LEGO minifigures, including Luke Skywalker, Han Solo and C-3PO, new-for-October-2020 Ponda Baba, Garindan and Labria, plus an R2-D2 LEGO droid figure.
Your next DIY project
This building kit comes with clear instructions so you can enjoy every step of the hands-on, DIY experience. One of a huge variety of LEGO Star Wars sets, this building set for adults makes a super gift for yourself, Star Wars fans and hobbyists in your life.
Immerse yourself in a challenging build and then recreate classic Star Wars: A New Hope scenes with this highly detailed LEGO® Star Wars Mos Eisley Cantina (75290) Master Builder Series display model.
This building kit features 20 LEGO® minifigures, including Chewbacca, Obi-Wan Kenobi, Ponda Baba, Garindan and Labria, plus an R2-D2 LEGO droid figure and a Dewback LEGO figure to bring the Tatooine tavern to life.
The Cantina has a removable roof for easy access to the different booths so you can explore the many authentic details and play out stories with the heroes and an array of smugglers, bounty hunters and aliens.
The perfect way to click your stress away, this 3,187-piece Star Wars construction kit makes a wonderful treat for yourself and a special birthday or holiday gift for the Star Wars fan or hobbyist in your life.
The buildable Mos Eisley Cantina model measures over 7.5" (19cm) high, 20.5" (52cm) wide and 23" (58cm) deep when opened up. Alongside the attachable buildings and 2 Landspeeders it makes an awesome display piece.
No batteries required – this set offers a hands-on, mindful building experience with LEGO bricks only. So give yourself a well-earned break and enjoy recreating an iconic Star Wars location.
Includes easy-to-follow instructions so even LEGO newcomers can build confidently, plus an illustrated booklet about the set, its model designer and the Star Wars stories that inspired it.
This LEGO Star Wars set for adults is part of a collection of inspiring LEGO building kits designed for you, the discerning hobbyist, as you look for your next fun and creative DIY project.
Ever since 1958, LEGO® building bricks have met the highest industry standards, which ensures they are consistent, compatible and connect and pull apart easily every time. No need to use the Force!
LEGO bricks and pieces are rigorously tested and analyzed so that all Star Wars construction sets meet the highest safety and quality standards on planet Earth – and in every galaxy!
LEGO Mos Eisley Cantina 75290 Press Release
Billund, September 9, 2020: Coming from a galaxy far, far away and into to the homes of LEGO enthusiasts and Star Wars fans across the world – the LEGO Group's new LEGO® Star Wars building set, the Mos Eisley Cantina™ set, will dazzle adult builders and film fans alike. Bringing to life one of the Skywalker saga's most iconic locations, the new set is sure to become an instant classic as fans immerse themselves in the famous cantina's world of smugglers, musicians, bounty hunters and Jedi Knights.
The impressive building kit gives adult LEGO fans the chance to relax and enjoy a mindful building experience as they reconnect with their passion for the original trilogy. Intrepid builders can even open up the set's removable roof to admire its intricate details and act out their favourite Star Wars: A New Hope scenes, using iconic character mini-figures including Luke Skywalker, Han Solo, C-3POTM. Additionally, the set features eight character mini-figures that have been introduced in LEGO form for the first time, including Ponda Baba, Dr. EvazanTM, GarindanTM, and more.
As they embark on their journey to bring Mos Eisley's quintessential taverna to life, films lovers and Star Wars devotees will be thrilled to discover the set's special features, such as the attachable buildings, two landspeeders – one of which has never been built in LEGO before – and a dewback LEGO Star Wars figure. The LEGO Star Wars Mos Eisley Cantina is also dotted with hidden details throughout, such a "Wanted" poster featuring R2-D2 and C-3PO, to the kyber crystals hidden in one of the exterior buildings.
Once built, the 3,187-piece LEGO Star Wars Mos Eisley Cantina construction set makes for an extraordinary display piece, standing at over 7.5" (19cm) high, 20.5" (52cm) wide and 23" (58cm) deep when opened.
Part of the Master Builder series, the new Star Wars building kit is the latest example of how the LEGO Group aims to inspire builders to build, rebuild and get excited by the process of creation. Speaking about the creative process behind the new building kit, set designer Cesar Soares said:
"The first time I watched the cantina scene in Star Wars: A New Hope, I was just 12 years old. I remember thinking, 'this is where the adventure starts!' Years later, when I then became a LEGO Star Wars  designer in 2016, this was the first set I built. With this design, we've added external buildings like the Jawa shop, refined the details, and chosen an impressive 21 minifigure characters, including all-new alien figures. I love that all Star Wars characters have cool backstories, no matter how briefly they appear, it wasn't easy to decide which characters to include in the set, but we hope fans will love the entire model and its line-up of heroes and villains."
There is a huge variety of LEGO Star Wars building sets available to delight fans, helping them reimagine their favourite scenes, create their own epic stories, or just build and display the awesome models, including the LEGO Star Wars Luke's Landspeeder, the TIE Fighter Pilot Helmet™ and A-wing Starfighter™ construction sets. The Mos Eisley Cantina set is perfect for those looking for a new building challenge – making it ideal for ages 18+ to enjoy solo or with friends and family.
The LEGO Star Wars Mos Eisley Cantina construction set will be available for LEGO VIP members from 16th September and then globally from 1st October, directly via LEGO.com and LEGO Stores.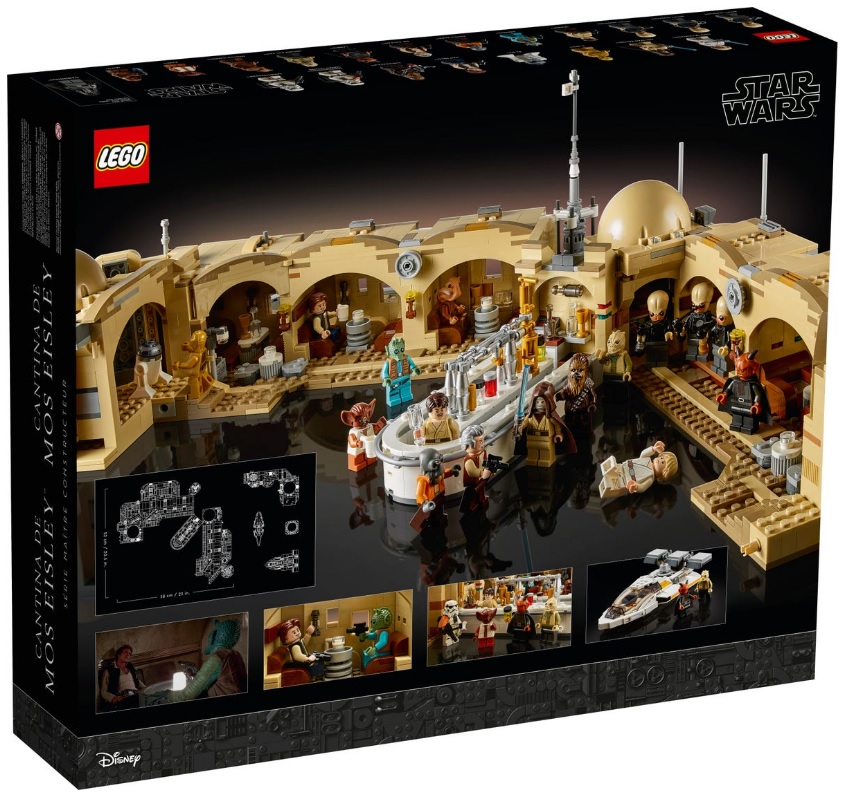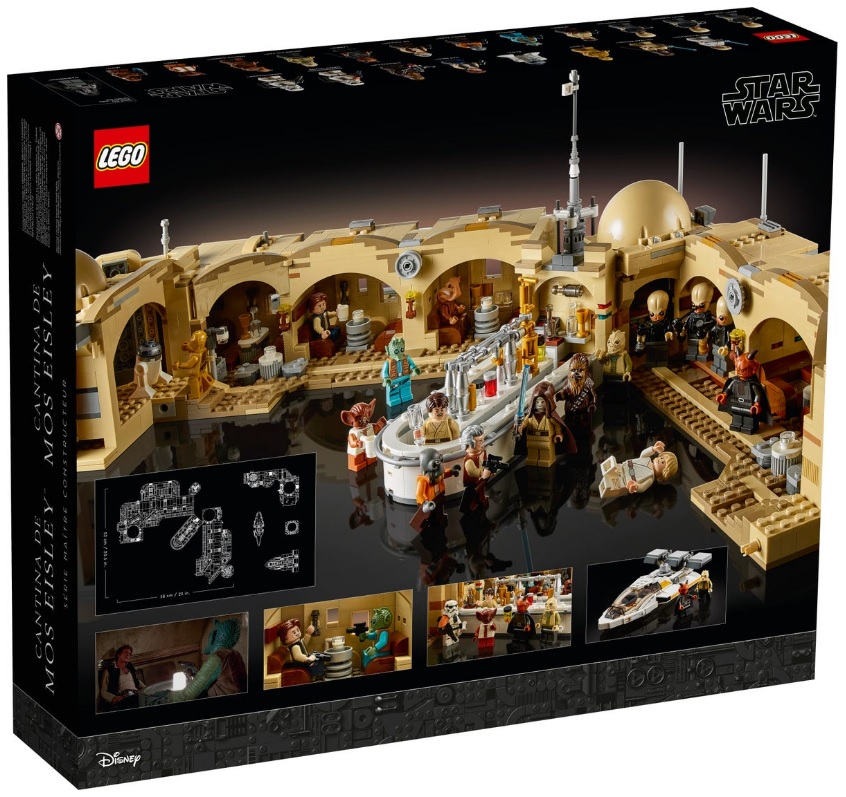 Toys N Bricks is your destination for the latest and hottest LEGO News, Sales News, Creations and Reviews! (www.toysnbricks.com)
Visit the new 2020 Toysnbricks LEGO Forums for LEGO Related Discussions.
Subscribe by Email and Follow Us on Facebook, Twitter, Instagram and Flickr.
Follow and like Toys N Bricks: