The new LEGO Monkie Kid (LEGO Monkey Kid) theme has been officially announced. It will be launched on May 16, 2020 at LEGO Shop at Home Worldwide (including LEGO Shop at Home USA | Canada | UK), LEGO Brand Retail Stores and LEGOLAND. For those living in Mainland China, Singapore, Malaysia and Hong Kong, they will have early access beginning today. LEGO Monkey Kid is inspired by the Chinese novel Journey to the West reimagined into LEGO sets and minifigures. There will be eight new LEGO sets, an animated movie and TV series made available.
LEGO 80006 White Dragon Horse Bike: 259 pieces, RRP: CNY 299,00/EUR
29,99/USD 34,99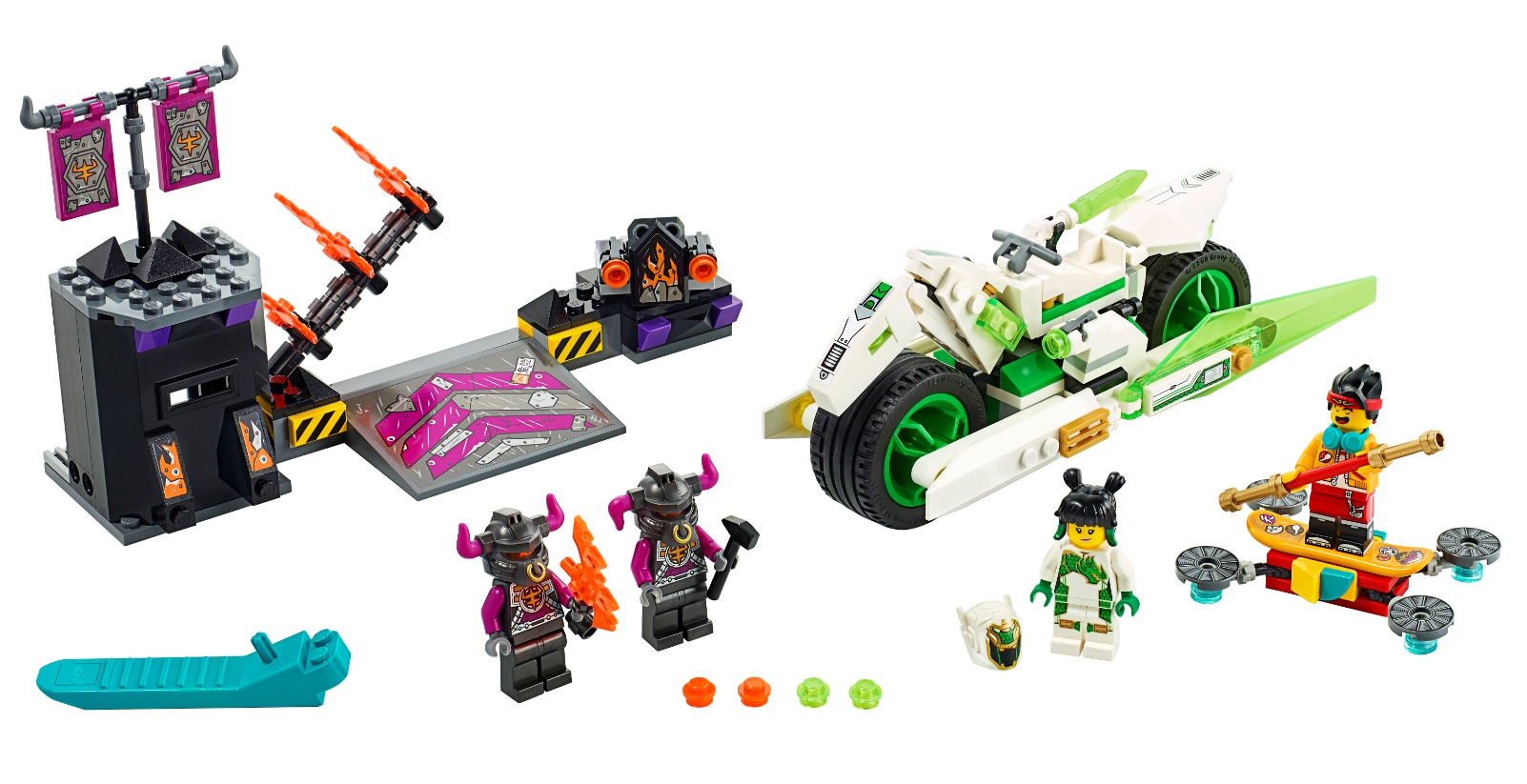 LEGO

80007 Iron Bull Tank: 430 pieces, RRP: CNY 449,00/EUR 44,99/USD
49,99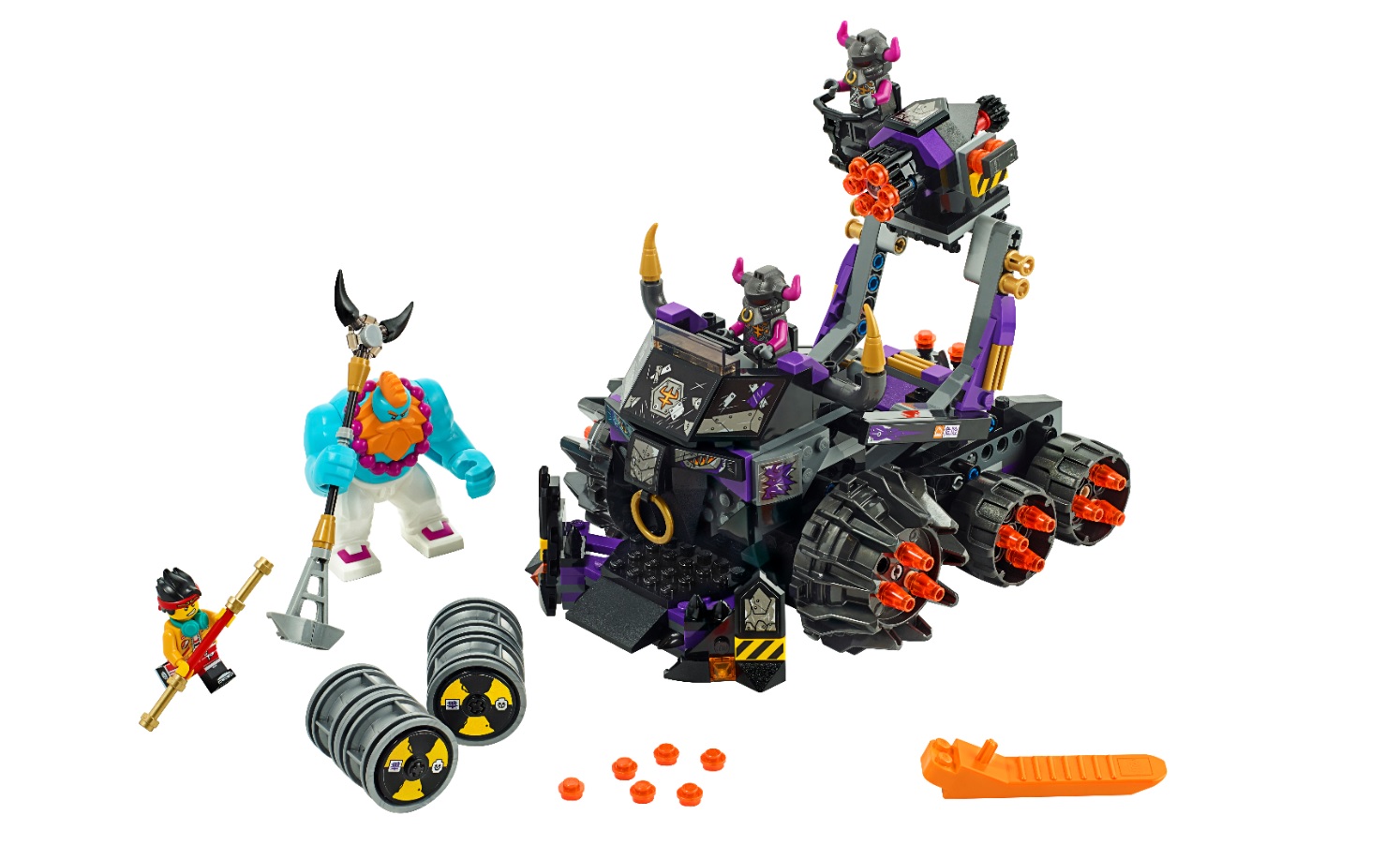 LEGO

80008 Monkie Kid's Cloud Jet: 529 pieces, RRP: CNY 499,00/EUR
49,99/USD 59,99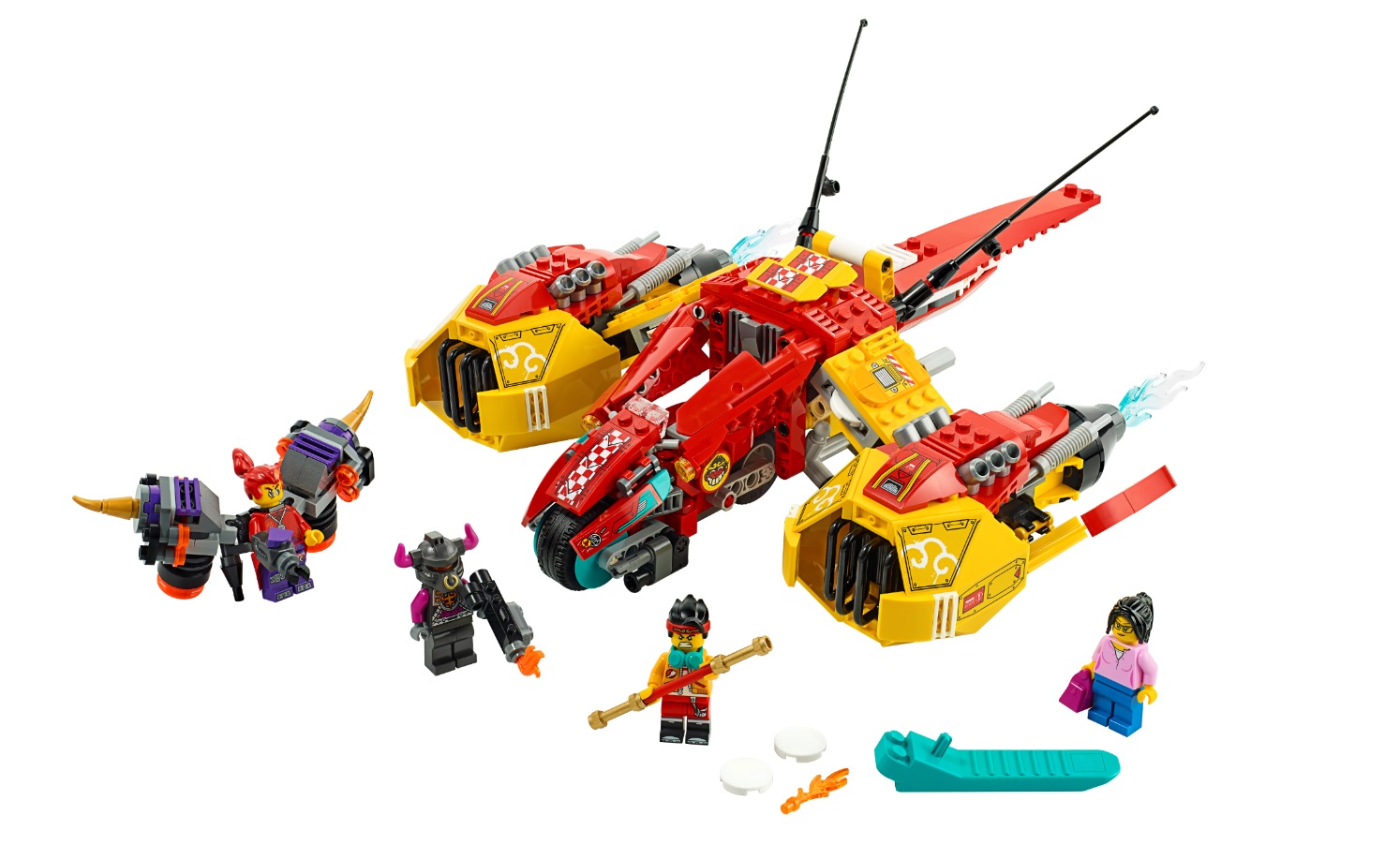 LEGO

80009 Pigsy's Food Truck: 832 pieces, RRP: CNY 599,00/EUR 59,99/USD
69,99
LEGO

80010 Demon Bull King: 1,051 pieces, RRP: CNY 799,00/EUR 79,99/USD
89,99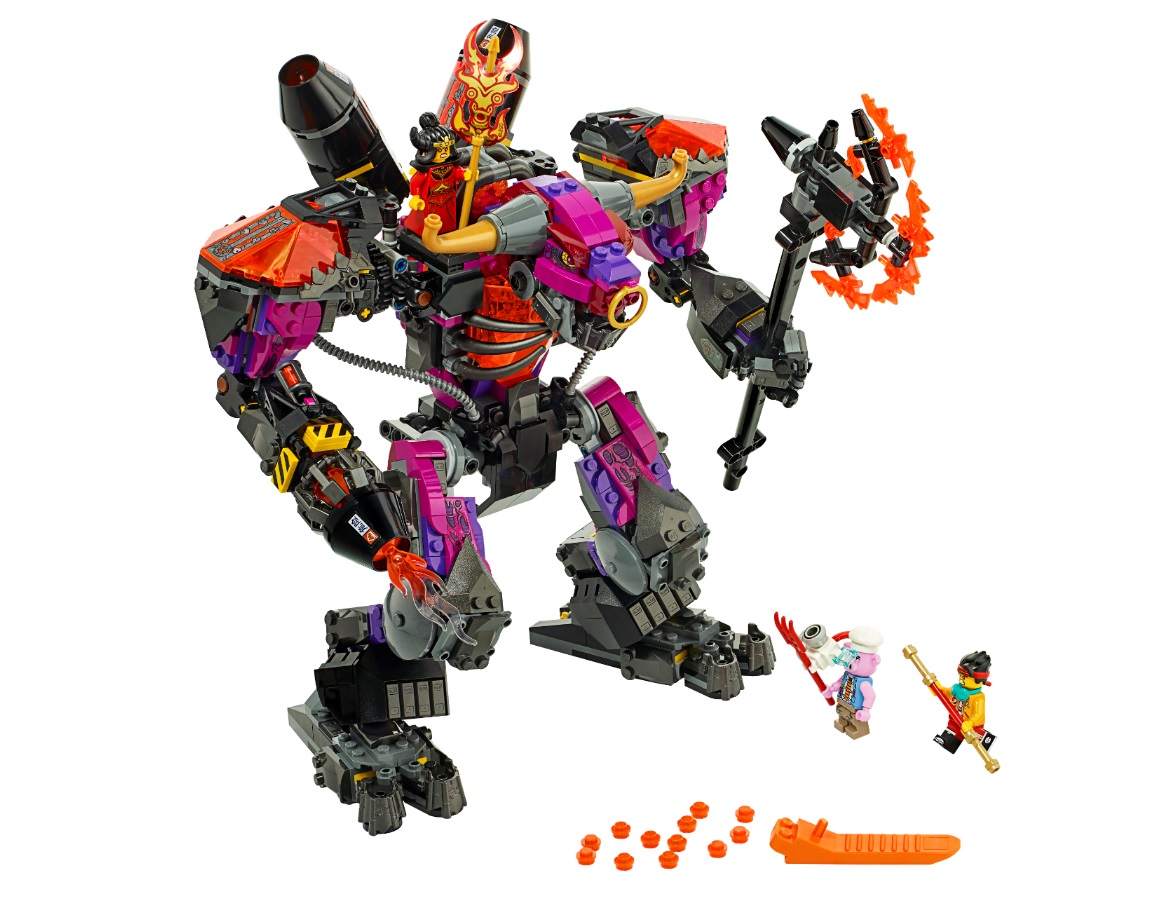 LEGO

80011 Red Son's Inferno Truck: 1,111 pieces, RRP: CNY 999,00/EUR
99,99/USD 119,99
LEGO

80012 Monkey King Warrior Mech: 1,629 pieces, RRP: CNY 1.299,00/EUR
129,00/USD 149,99
LEGO

80013 Monkie Kid's Team Secret HQ: 1,959 pieces, RRP: CNY
1.599,00/EUR 169,99/USD 169,99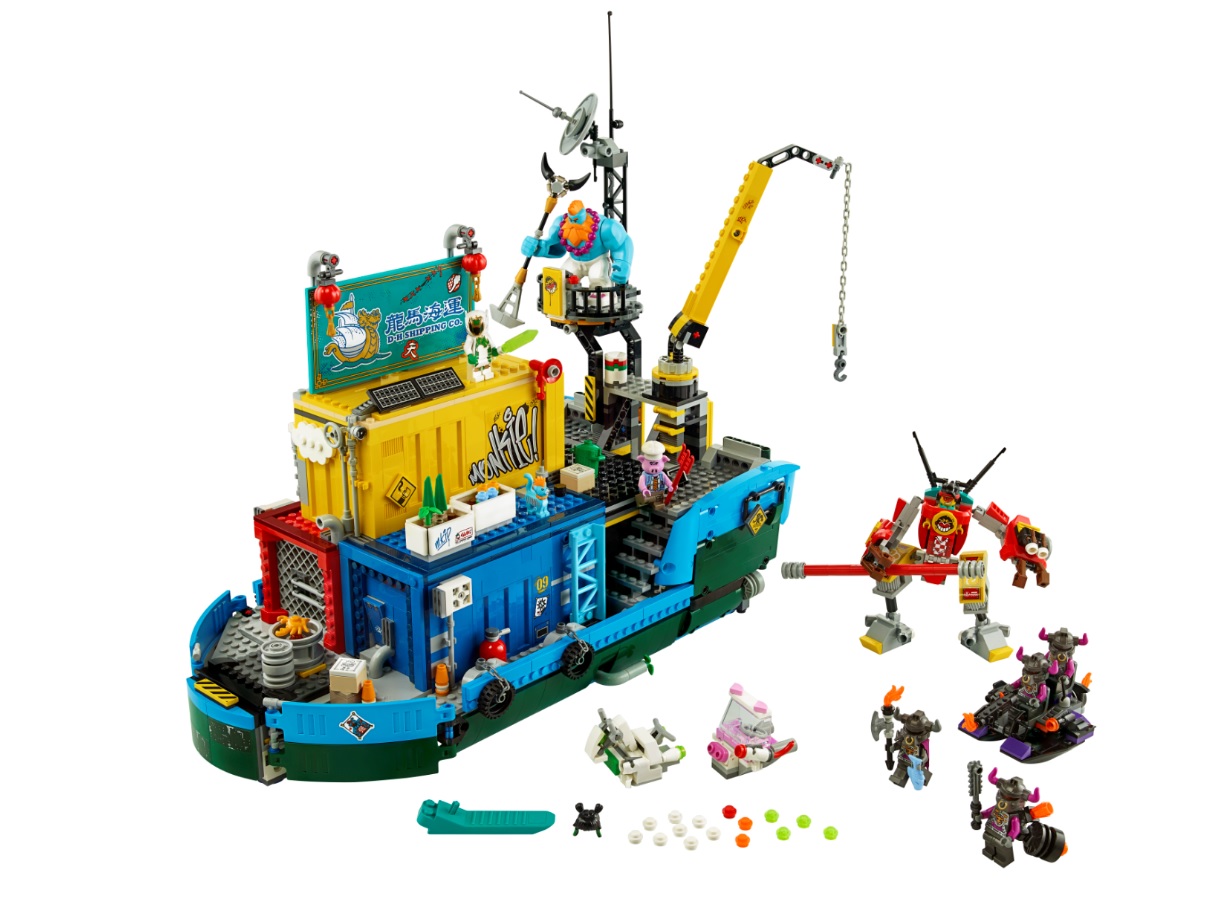 The full press release is available below. Additional images and features and clips available on the LEGO Press Newsroom. Download the assets to see them.
[May 15th, 2020] Inspired by the 500-year-old story of the Monkey King, LEGO Monkie Kid is the LEGO Group's take on a new, untold chapter of the legendary tale. Featuring eight exciting sets, an animated mini movie and TV series, LEGO Monkie Kid is the first ever LEGO theme to be inspired by a Chinese legend and is rooted firmly in the country's culture and values. The theme's sets are packed with fun, excitement and an epic story just waiting to unfold…
The tale begins when an ordinary boy, Monkie Kid, finds Monkey King's legendary staff and he becomes the chosen one. Together with his brave and loyal friends, Monkie Kid begins his quest to stop the Demon Bull King and his army of Bull Clones from taking over the city.
Paying tribute to stories known and admired by so many children and parents in China and Asia, this latest LEGO play theme brings new life to the iconic Monkey King fable and provides a common ground for children, parents and grandparents to build and play together.
"I am super excited about the launch of LEGO Monkie Kid. This fantastic new play theme is deeply inspired by Chinese culture and built on an esteemed story that is treasured by all generations. We know kids will be delighted by the world of LEGO Monkie Kid, and I can't wait to see how they immerse themselves in building, role playing and creating new stories through this theme. This is a very exciting innovation for the LEGO brand and one that demonstrates our commitment to building a strong future in China," says Julia Goldin, Chief Marketing Officer at the LEGO Group.
With a modern Chinese twist, LEGO Monkie Kid celebrates bravery and friendship and lets children engage in great building experiences whilst helping them to develop their imagination and creativity. Paul Huang, General Manager of LEGO China, says: "The launch of Monkie Kid is another important milestone in our journey to provide the creative LEGO play experience to many more Chinese children. Deeply rooted in Chinese culture, the new theme line is created with inspiration from China, for China, and at the same time empowers children around the world to be brave, resilient and optimistic through creative play with LEGO bricks."
Children can look forward to eight action-packed sets with colourful characters, impressive vehicles with exciting new and hidden features – plus a blue cat with an orange mohawk! The sets are a result of two years of close collaboration with children and parents in China to ensure they are authentic to local culture. Never before has the LEGO Group launched a theme inspired by one culture and with so much attention to local details, values and traits.
"I have been touched and inspired by China's rich history and culture, the passion and pride of the people and the incredible creativity of China. It has been an honour and privilege to be able to immerse myself in China's culture of storytelling, in particular – Journey to the West and the Monkey King. The epic stories and incredible characters have been a huge inspiration to the LEGO design team and me. It is with deepest respect for Chinese culture and the 500-year-old legend that we have created the next chapter in the story of the Monkey King – The Monkie Kid," says Simon Lucas, Senior Design Director at the LEGO Group.
LEGO Monkie Kid will launch on May 16th on LEGO Online, in LEGO stores*, LEGOLAND and LEGOLAND Discovery Centers with early access for:
China mainland from May 15th in LEGO stores, LEGOLAND Discovery Centers, and TMall  Flagship stores only.
Singapore, Malaysia, and Hong Kong from May 15th in LEGO stores, and LEGOLAND Discovery Centers only.
In markets still under COVID-19 government regulations, our LEGO stores will remain closed until government guidelines change. Some LEGO stores are reopening. To find out if a LEGO store is open, please reach out to LEGO Customer Service.
Toys N Bricks is your destination for the latest and hottest LEGO News, Sales News, Creations and Reviews! (www.toysnbricks.com)
Subscribe by Email and Follow Us on Facebook, Twitter, Instagram and Flickr