The latest LEGO Ideas project creation to achieve 10 000 supporters is Ratatouille: Open The Doors by Brick Project. Congrats! Your project would now be at the LEGO Reviews stage where it would be evaluated to be potentially the next LEGO Ideas set. You can check out more images and details on LEGO Ideas.
What's more paradoxical of a rat cooking in a five-star restaurant? For sure nothing, because no one would even think about that. No one? … I am not so sure. Indeed, life is complex and it happens sometimes that human beings have strange ideas, which eventually lead to genius thoughts. This happened one day to Jan Pinkava and Brad Bird, the fathers of « Ratatouille ». Winner of the Best Animation Oscar (2008), this movie quickly managed to gain our hearts and to stand as a masterpiece of animation.
As a french Disney Pixar lover, I wouldn't have missed this beautiful movie for anything! And when I watched the movie, I fall in love with this story. I can't describe my feelings when I first saw the animation: a mix of excitement and enchantment. Certainly, because it was the first time I saw something different, something more poetic and original in an animated feature.
These emotions led me to create a LEGO mini-figure scale set of the kitchen of the movie. A crazy and huge project, but undoubtedly something I would love to spend hours on it.
I really wanted to build a licensed set about this story but I didn't know which part of the movie I had to reproduce. Because the kitchen is huge and the restaurant too. But because most scenes of the movie take place there, I opted to make a reduced version of the kitchen including a small restaurant part.
I wanted to share my progress with the lego community, I decided to update my work every 2 hours on my twitter page (@project_brick). All the likes and comments, really boosted me to make the project even better by adding some small details everywhere.
After a full week, I finally finished the whole building, and I can say that I am very proud of what I did. Honestly, I didn't expect to create something that big, but I was so hyped during the build that I literally can't stop to build. In the end, the project contains 2853 bricks with 4 minifigs: Linguini Alfredo, Colette Tatou, Skinner, Anton Ego and a micro fig of Rémy!
I have also added some easter eggs in the build. Indeed, on the rooftop you can see a mini "rat restaurant" scene (refers to the very end of the movie). I also create a custom street sign, that I called "Rue Ratatouille". I hope these little details will please a lot of fans!
I hope that you like the project as much as I do! I spend a lot of time and effort into building this project, and I would love it if you smash the blue "support" button. 10 000 votes can make this idea a real lego set!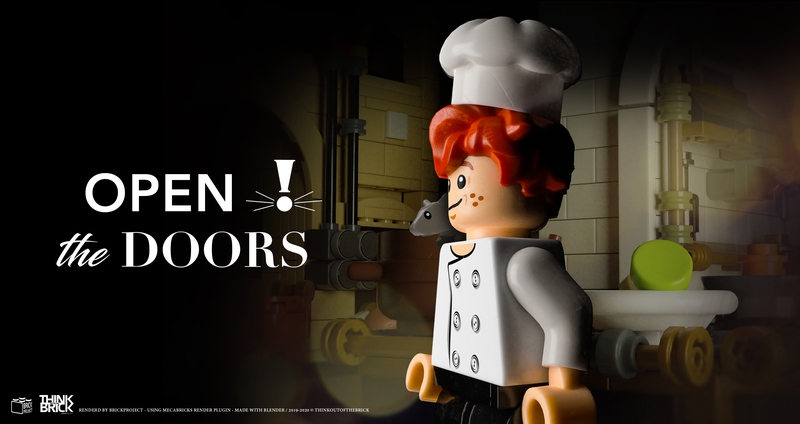 Toys N Bricks is your destination for the latest and hottest LEGO News, Sales News, Creations and Reviews! (www.toysnbricks.com)
Subscribe by Email and Follow Us on Facebook, Twitter, Instagram and Flickr
Follow and like Toys N Bricks: