A couple of LEGO Ideas creations have recently achieved 10 000 supporters. Below are some of these creations along with a portion of their descriptions. You can visit the LEGO Ideas page for more details. Congrats to all the creations and good luck with the review stage!
LEGO Ideas Creations Dungeon Master
I am glad you found your way to this fantasy set with a multitude of options. Three brave heroes await your story. No one knows what adventures they will have, no one know what dangers or monsters they will encounter on their journeys and quests.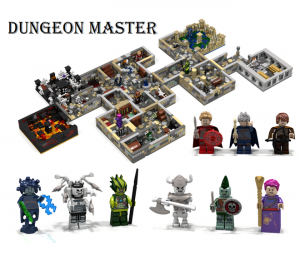 LEGO Ideas Creations Red Arrows Hawk
One of the world's premier aerobatic teams, the Red Arrows display to millions of people every year.
The Squadron's famous for performing dynamic loops, rolls, close passes and formation shapes with its nine fast-jets – flying as close as six feet apart at 350mph.
Officially known as the Royal Air Force Aerobatic Team, the Red Arrows promote the best of British and inspire people of all ages with their teamwork and skills.
LEGO Ideas The Blues Mobile
I decide to create the Blues Mobile with the big speaker on the to. But it's easy to dispatch the speaker including the speaker construction to open the boot on the back or  to open the roof to take a look inside of the car. The inside of the Blues Mobile is highly detailed with speed'o'meter, cigarette lighter and radio.
LEGO Ideas Sega Classic Arcade Machines
Build miniature representations of classic Sega arcade games out of Lego bricks! These minifigure-scaled replicas will look good displayed on your desk at work or home and are perfect for use in your Lego City! The three included minifigures look great at the controls of these detailed builds.