The LEGO Store Calendar for September 2014 is now out. This month, there will be 2 free gifts. The Chima Worriz Fire Bike runs from August 25-September 14 which means it can stack with the other free gift promotion, the classic Spaceman Minifigure. If you are a LEGO VIP, you can get a free exclusive classic spaceman minifigure with purchases of $99 or more. Aside from that, there's not much except an exclusive early access to the new Holiday Exclusive set for LEGO VIPs.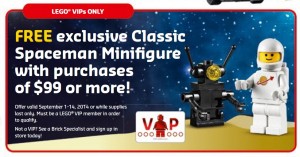 Highlights
August 25th – September 14th: FREE Worriz' Fire Bike with purchases of $50 ore more
1st: Get the NEW LEGO exclusive, The Tumbler
1st – 14th: LEGO® VIP members: FREE exclusive Classic Spaceman Minifigure with purchases of $99 ore more
1st – 28th: Experience the NEW LEGO Juniors sets!
1st – 30th: Double VIP points on 10673 "Race Car Rally" and 41037 "Stephanie's Beach House"
2nd: FREE Monthly Mini Model Build (Airplane)!
14th: LEGO Fusion Demonstration Day
17th – 30th: VIPs get early access to the NEW exclusive LEGO holiday set
21st: LEGO Fusion Demonstration Day
27th: Join a LEGO CITY Club Meeting
Thanks to vynsane for the tip.