This year, LEGO Brand Stores and LEGOShop (USA | Canada) will once again be offering LEGO Black Friday 2013 Sales. The deals are valid from November 29th to December 2nd, 2013 (EST) or while supplies last.
PST time zone (San Francisco, Seattle, Portland, Vancouver): Sale starts at 9pm tonight
UTC time zone (Chicago, Milwaukee): Sale starts at 11pm tonight
EST time zone (New York, Boston, Toronto): Sale starts at 12am tonight
*United Kingdom, Europe and Australia offer details are available on this post.
2013 LEGO Black Friday Promotions
FREE Limited Edition Holiday Set with purchase of $99 or more
FREE $10 Gift Card with purchase of $149 or more (online only)
FREE Shipping on all orders (no minimum)
Receive a Free THE LEGO® MOVIE™ poster sticker to customize your Palace Cinema. (valid until December 31st)
FREE Exclusive Clone Trooper™ Lieutenant with LEGO® Star Wars™ purchases of $50 or more! (valid until December 31st)
2013 Black Friday LEGO Sales
Sales & Deals Page: USA | Canada
50% off LEGO Products
10557  LEGO® DUPLO®  LEGO® DUPLO® Giant Tower  50%
70011  LEGO® Chima  Eagle's Castle  50%
5000248  LEGO® Storage  3-Drawer Storage Unit  50%
5001164  LEGO® Storage  LEGO FRIENDS 3-Drawer Storage Unit  50%
3920 LEGO® The Hobbit™ The Hobbit: An Unexpected Journey™ 50%
5002679  LEGO® Chima  LEGO® Legends of Chima Classic Backpack  50%
70115  LEGO® Chima  Ultimate Speedor Tournament  50%
6051  LEGO® DUPLO®  LEGO® DUPLO® Play with Letters  50%
21201   Life of George  50%
5002677   LEGO® Moleskine 2014 Large Daily Planner  50%
850506   Card Making Kit  50%
5002676   LEGO® Moleskine 2014 Large Weekly Planner  50%
5002675   LEGO® Moleskine 2014 Daily Pocket Planner  50%
70113  LEGO® Chima  CHI Battles  50%
70114  LEGO® Chima  Sky Joust  50%
850775  LEGO® Chima  LEGO® Legends of Chima™ Speedorz™ Storage Bag  50%
5002195  LEGO® Ninjago  LEGO® Ninjago: Masters of Spinjitzu Season Two  50%
5002202  LEGO® Super Heroes  LEGO® Batman – The Movie: DC Super Heroes Unite DVD  50%
5002674   LEGO® Moleskine 2014 Weekly Pocket Planner  50%
850797   Classic Wall Stickers  50%
70100  LEGO® Chima  Ring of Fire  50%
70101  LEGO® Chima  Target Practice  50%
70102  LEGO® Chima  CHI Waterfall  50%
70103  LEGO® Chima  Boulder Bowling  50%
70104  LEGO® Chima  Jungle Gates  50%
70105  LEGO® Chima  Nest Dive  50%
70106  LEGO® Chima  Ice Tower  50%
70107  LEGO® Chima  Skunk Attack  50%
70108  LEGO® Chima  Royal Roost  50%
70109  LEGO® Chima  Whirling Vines  50%
70110  LEGO® Chima  Tower Target  50%
70111  LEGO® Chima  Swamp Jump  50%
70112  LEGO® Chima  Croc Chomp  50%
853393  LEGO® Friends  LEGO® Friends Picture Frame  50%
5002198  LEGO® Star Wars™  LEGO® Star Wars™: The Empire Strikes Out  50%
850487   Halloween Accessory Set  50%
850611  LEGO® Chima  Cragger Shield  50%
850614  LEGO® Chima  Laval Shield  50%
850777  LEGO® Chima  LEGO® Legends of Chima™ Accessory Set  50%
6758  LEGO® DUPLO®  Grow Caterpillar Grow!  50%
6760  LEGO® DUPLO®  Let's Go! Vroom!  50%
10559  LEGO® DUPLO®  A Fairy Tale  50%
2856205  LEGO® Storage  LEGO® Portable Storage Case with Baseplate (BLUE)  50%
2856206  LEGO® Storage  LEGO® Portable Storage Case with Baseplate (RED)  50%
850612  LEGO® Chima  Cragger Sword  50%
41001  LEGO® Friends  Mia's Magic Tricks  50%
41002  LEGO® Friends  Emma's Karate Class  50%
9678  LEGO® Star Wars™  Twin-Pod Cloud Car™ & Bespin™  50%
853144   LEGO® 2×4 Brick Coin Bank  50%
40052   Springtime Scene  50%
5001261  LEGO® Storage  LEGO® Sorting Trays  50%
850682  LEGO® The Hobbit  LEGO® The Hobbit: An Unexpected Journey™ Bilbo Baggins™ Magnet  50%
850681  LEGO® The Lord of the Rings™  LEGO® The Lord of the Rings™ Frodo Baggins™ Magnet  50%
853375  LEGO® City  LEGO® City Firefighter Key Chain  50%
5685  LEGO® DUPLO®  Vet  50%
850453  LEGO® Monster Fighters  LEGO® Monster Fighters The Monster Key Chain  50%
853403  LEGO® Ninjago  LEGO® Ninjago Hypnobrai Key Chain  50%
850443  LEGO® Ninjago  LEGO® Ninjago Key Chain Snake  50%
850529  LEGO® Super Heroes  LEGO® Marvel Super Heroes Loki Key Chain  50%
850680  LEGO® The Hobbit  LEGO® The Hobbit: An Unexpected Journey™ Bilbo Baggins™ Key Chain  50%
850674  LEGO® The Lord of the Rings™  LEGO® The Lord of the Rings™ Frodo Baggins™ Key Chain  50%
850800   Hedgehog Bag Charm  50%
71001  LEGO® Minifigures  LEGO® Minifigures Series 10  50%
71000  LEGO® Minifigures  LEGO® Minifigures Series 9  50%
853240   Minifigure Wrapping Paper  50%
Up to 30% off LEGO Products
79010  LEGO® The Hobbit  The Goblin King Battle  30%
79002  LEGO® The Hobbit  Attack of the Wargs  30%
70003  LEGO® Chima  Eris' Eagle Interceptor  23%
20% off LEGO Products
10230  LEGO® Creator Expert  Mini Modulars  20%
3818  LEGO® SpongeBob™  Bikini Bottom Undersea Party  20%
21004  LEGO® Architecture  Solomon R. Guggenheim Museum®  20%
21007  LEGO® Architecture  Rockefeller Plaza®  20%
70012  LEGO® Chima  Razar's CHI Raider  20%
6231  LEGO® Hero Factory  SPEEDA DEMON  20%
5766  LEGO® Creator  Log Cabin  20%
70002  LEGO® Chima  Lennox's Lion Attack  20%
6230  LEGO® Hero Factory  STORMER XL  20%
3817  LEGO® SpongeBob™  The Flying Dutchman  20%
21000  LEGO® Architecture  Willis Tower  20%
3816  LEGO® SpongeBob™  Glove World  20%
3183  LEGO® Friends  Stephanie's Cool Convertible  20%
3815  LEGO® SpongeBob™  Heroic Heroes of the Deep  20%
6223  LEGO® Hero Factory  BULK  20%
6283  LEGO® Hero Factory  VOLTIX  20%
3939  LEGO® Friends  Mia's Bedroom  20%
6221  LEGO® Hero Factory  NEX  20%
6282  LEGO® Hero Factory  STRINGER  20%
41017  LEGO® Friends  Squirrel's Tree House  20%
41018  LEGO® Friends  Cat's Playground  20%
41019  LEGO® Friends  Turtle's Little Oasis  20%
41020  LEGO® Friends  Hedgehog's Hideaway  20%
41021  LEGO® Friends  Poodle's Little Palace  20%
41022  LEGO® Friends  Bunny's Hutch  20%
41023  LEGO® Friends  Fawn's Forest  20%
41024  LEGO® Friends  Parrot's Perch  20%
41025  LEGO® Friends  Puppy's Playhouse  20%
31000  LEGO® Creator  Mini Speeder  20%
31001  LEGO® Creator  Mini Skyflyer  20%
Less than 20% off LEGO Products
70006  LEGO® Chima  Cragger's Command Ship  19%
70009  LEGO® Chima  Worriz' Combat Lair  11%
70008  LEGO® Chima  Gorzan's Gorilla Striker  10%
Sales & Deals Page: USA | Canada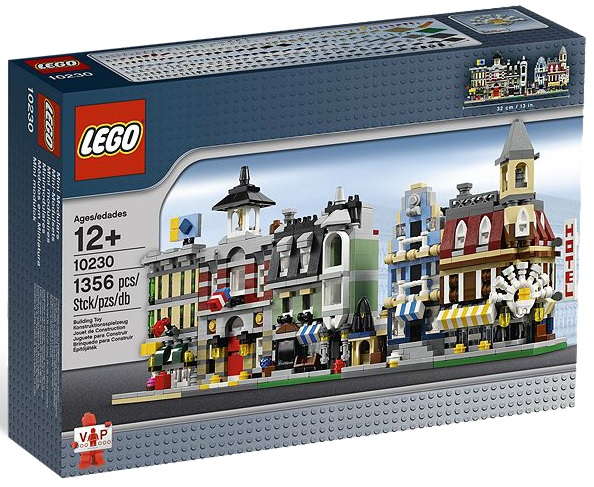 Follow and like Toys N Bricks: