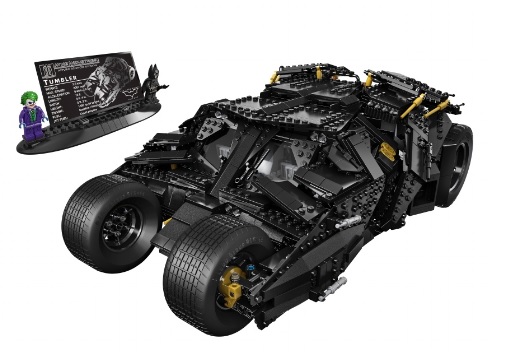 USAToday has leaked info regarding the exclusive upcoming LEGO UCS Dark Knight Tumbler set that would be officially revealed at the San Diego Comic Con 2014. The set contains 1869 pieces and will be priced at $199 USD.
Following the pop-culture convention, which runs through July 27, the Tumbler toy (1,869 pieces, $199) goes on sale. Measuring 15 inches tall and 9 inches wide, the LEGO Tumbler has an armored exterior, adjustable wings, a detailed interior (with a console screen that reads "INTIMIDATE") and oversized rubber-tread tires. It also comes with a fact sheet about the vehicle from the movies.
If you're into character mini-figures, the stars of the set are a Christian Bale-styled Batman and the Joker, the first time Heath Ledger's The Dark Knight take on the villain has appeared in LEGO form.
New LEGO Dark Knight Minifigures!