Its been a while since we had a giveaway or contest so we're proud to launch our first ever LEGO Captions Contest! The first LEGO Star Wars Movie featured the famous Droid Escape scene. How would YOU like to recreate it?
Fill in the captions and you could win a brand-new LEGO Star Wars 75136 Droid Escape set! Our favorite entry will win a copy of the set. Contest runs for two weeks until April 9th!
LEGO Contest Rules:
-One entry per person/forum member
-Fill in all four captions (one for each minifigure); you can make a title and a brief storyline if you like
-Post your entry in this thread
-Contest is open until 21:00 PST April 9th, 2016
*All standard contest rules followed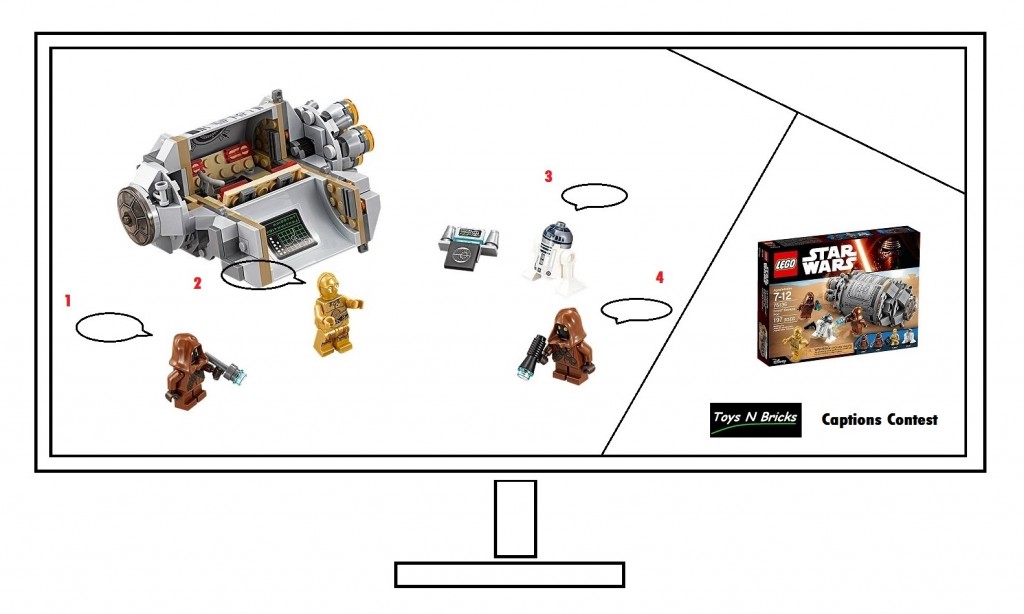 LEGO Star Wars 75136 Droid Escape Product Description
Help the droids escape with the Death Star plans!
C-3PO and R2-D2 are in danger and they need your help to escape! Load them into the Droid Escape Pod, close the hatches and launch to safety. After landing on the nearest planet, can you keep them safe from the Jawas with their ion blasters? That's for you to decide.
Includes 3 minifigures: C-3PO and 2 Jawas, plus an R2-D2 Astromech Droid.
Features opening hatches, large engines at the back and a detailed interior with space for 2 characters and a display showing the top-secret Death Star plans.
Includes 2 Jawa ion blasters.
Recreate the unforgettable opening scenes from Star Wars: Episode IV A New Hope.
Measures over 2" (7cm) high, 5" (14cm) long and 2" (6cm) wide with hatches closed, and over 5" (13cm) wide when open.