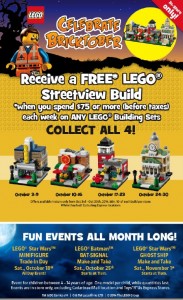 Bricktober is now here! However, they will be offering a free "LEGO Streetview Build" set when you spend $75 or more. These are basically the mini modular buildings that were revealed earlier. They will also be offering a variety of different events as well. Thanks to forum member legume for the tip.
40180 Bricktober Theatre
40181 Bricktober Pizza Place
40182 Bricktober Fire Station
40183 Bricktober Town Hall
For the first week, there's actually no sale at Toys R Us unfortunately. Babies R Us at Toys R Us is however offering a free LEGO Duplo Apple polybag set when you purchase any Philips AVENT Toodler Cup. Valid October 3-16.