The Toys R Us Easter LEGO Building Event is now over. Here's a closer look at the free building event. Thanks to atmail35 and Congruence for posting the pictures! In Canada, the build was an Easter egg. Here are the instructions for it. The pieces are rather simple, but they're still free LEGOs! For Canadian discussions, please click here.
LEGO Easter Egg 2013 (Canada)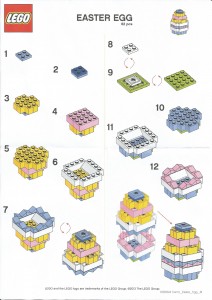 If you are from United States, Toys R Us stores there are being a lot more generous. You get a LEGO Friends poster, a LEGO Friends Well as well as a promotional LEGO Friends Puppy Key Chain. Good idea to get the poster laminated for a cheap playmat! To discuss about the USA LEGO Building event, please click on the forum comments below.
LEGO Friends Well, Puppy Keychain and Poster (United States)