Aside from the regular new theme releases like Friends Series 5 Pets, Agents, Guardians of the Galaxy, Ninjago, Technic, City Artic & Trains, there's also a bunch of other new unique products at LEGO Shop at Home. Until June 15, 2014 (or June 30th for Europe/UK), you can also get a free exclusive 40108 LEGO Balloon Cart Polybag when you spend $75/£50. The set goes great with the new Fairground Mixer exclusive set.
40112 Friends Model Catwalk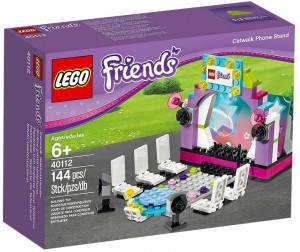 31026 Bike Shop & Cafe
2000414 Serious Play Starter Kit
5002916 THE LEGO MOVIE Unikitty Key Light
40118 Buildable Brick Box 2×2
Of course, there are also lots of new LEGO product collections ranging from Creator, City Arctic, Technic and Minecraft. Unfortunately, there's not much incentives to get them as you don't really get any discount. Hopefully as time passes, LEGO will add a freebie into these collections like they did when they added a watch for some of the older LEGO Star Wars bundles.