Costco stores in America are currently selling LEGO Star Wars Microfighters bundles for $24 each. Each bundle contains 3 sets and the bundle has an outer box. There are three bundles to choose from, 2 of which are Star Wars Microfighters while the other one is based on LEGO Friends. You are required to purchase 2 bundles. Retail value of 2 bundles is $60 so $48 works out to be 20% off.
Star Wars Microfighters: 75028 Clone Turbo Tank, 75029 AAT, 75030 Millennium Falcon, 75031 Tie Interceptor, 75032 X-Wing Fighter, 75033 Star Destroyer.
Thanks to forum member Nepenthe7 for the tip.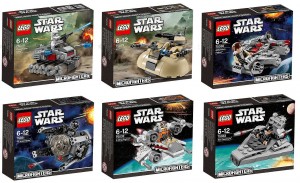 Follow and like Toys N Bricks: