If you missed the thread in the forum, remember that Kmart's LEGO clearance (instore) is still happening running now! Until October 6, you can get an additional 50% off clearance toys including LEGO. The prices look good! Thanks to everyone who posted about their find in the forums.
As a reminder, some items may not be at the clearance section (and some are not even marked). If you have the time, best thing to do would be to scan every single set in the LEGO section.
LEGO Clearance Items (confirmed with at least 2 reports for the sets below: lots more sets in the forums)
62% off – Superheroes Catwoman Catcycle City Chase $5 (reg.$12.99)
55% off – Star Wars Geonosian Starfighter $13.5 (reg.$29.99)
55% off – City Marina $22.5 (reg.$49.99)
53% off – Star Wars X-Wing Starfighter $28.5 (reg.$59.99)
53% off – Star Wars Tie Fighter $26 (reg.$54.99)
53% off – Superheroes Hulk's Helicarrier Breakout $23.5 (reg.$49.99)
53% off – Ninjago Rattlecopter $14 (reg.$29.99)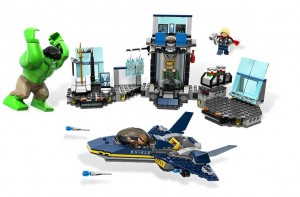 *P.S. There's been some tensions last time regarding the Wal-Mart clearance (since not all stores were discounting the sets). Should we continue to post these clearance reports or not? We do value your opinions and suggestions so please do let us know what you think.