Forum members natelite, eldudearino69 and Yogibara informs us that Toys R Us America currently has a LEGO Coupon where you can get $15 off a $50 LEGO Purchase. Max savings assuming you purchase exactly $50 (and the sets have no markups) would work out to be 30% off. Its unlikely though so if your lucky, you may score somewhere around 20% off. Use coupon code 954521 for online purchases. Valid August 12-18.
*Apparently, they're also still offering a free LEGO Series 5 Minifigure with $20 purchase. Stackable with the $15 off $50 LEGO coupon sale.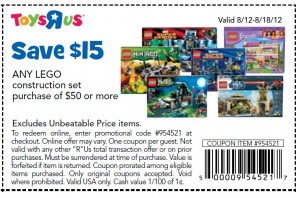 If you happen to pass by your local Toys R Us brick and mortar store (don't do it if you have to purposely drive miles to get to one), they also have a Free $5 Coupon for instore purchases.
This coupon is good from August 12-16 and is most likely not going to stack with the LEGO Coupon listed above. Therefore, if your being a smart customer, get exactly $5 worth of goods as you'll get it for free! (i.e their marked up $4.99 LEGO polybag sets)