Update: Not sure what happened, but it appears that the sale now applies to all LEGO. Good time to pick up the LEGO Mindstorms NXT 2.0 set as that has already been reduced to $239.99 (reg.$279.99). On top of that, it stacks with BOGO 50% off and Mastercard $15 off $150 special. Unforunately, the set is limited to 1 per customer. Regardless, you can still get a really nice deal when you pair this up with the Imperial Shuttle. (thanks sidersdd)
For 1 only on Saturday November 26, Toys R Us USA will be offering a nice LEGO sale with Buy 1 Get 1 50% off ALL LEGO Star Wars, Harry Potter and Cars theme sets. Online orders above $49 will qualify for FREE Shipping as well. Thanks to forum member sidersdd for the news.
For a limited time only, you can also save an additional $25 off $150 on your toy purchase if you pay with Mastercard. Stacks with the BOGO 50% off sale!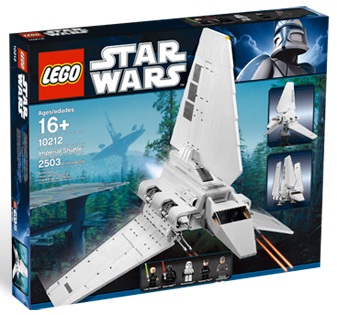 Follow and like Toys N Bricks: