Update: Online Exclusive apparently are excluded from the sale even though the flyer did not mention this exclusion.
This week from September 16-22, Toys R Us America will be having a Buy 2 Get 1 Free Sale on ALL LEGO excluding Ninjago, Friends, Technic and Video Games and Accessories. Free shipping on orders above $49. Thanks to forum member legobricks for the news.
The best part of the sale? Well, it would be their online exclusive sets as these are hard to get on sale. The following sets are what we would recommend purchasing as they do not have any markups. Just remember to try to purchase sets of equal value to maximize the 33% off discount.
Not Marked Up Exclusives
Creator Modular Buildings, Winter Village sets, Shuttle expedition
Castle Medieval Market Village and Harry Potter Diagon Alley
Star Wars Death Star, Super Star Destroyer and Imperial Shuttle
Prices
$399.99: Death Star, Imperial Shuttle
$259.99: Imperial Shuttle
$234.99: Tower Bridge (this is actually $5 or 2% below retail!)
$199.99: Town Hall
$149.99: Diagon Alley, Pet Shop, Grand Emporium, Fire Brigade
$99.99: Shuttle Expedition, Medieval Market Village
$54.99-$59.99: Winter Village Bakery, Winter Village Post Office
Marked up exclusives (we wouldn't really recommend these as they are marked up, but they are listed here in case you have trouble choosing 3 sets for the sale)
$234.99: Tower Bridge (marked up by $5 or 2%)
$129.99: Volkswagen Van (marked up by $10 or 8.33%)
$119.99: Sopwith Camel, Maersk Train (marked up by $20 or 20%)
*These online exclusives tends to go out of stock fast so we highly recommend deciding on what you want now. The sale typically starts at 9pm PST or 0:00 EST so start putting the items into your carts now. When the clock strikes tonight, all you have to do is just place the order.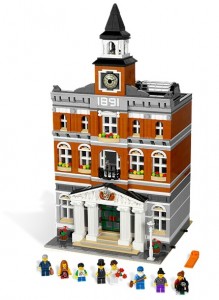 Follow and like Toys N Bricks: