Two more LEGO Ideas creations have recently reached 10 000 supporters. The first is Jeep Wrangler Rubicon and the second is Venetian Houses by McMarco. Congrats to both of the creators and good luck on the LEGO Ideas Review Stage!
Jeep Wrangler Rubicon (read more on LEGO Ideas)
Here is probably one of, if not the most, iconic off-road vehicle in the automakers' lineup, Jeep Wrangler Rubicon. Based on its unique design ques such as the seven-slotted front grill, bold protruding mudguards, beautifully curved hood with clearly stamped letters, and rounded top frames, huge number of variations have been developed by Wrangler manias over time.
VENETIAN HOUSES (read more on LEGO Ideas)
"One generally sits far too seldom at the sea."
This double modular size model comes with two wonderful meditarranean buildings. Both houses are dedicated to various cultural activities. The set adds a southern flair to every LEGO building collection. As a longtime fan of Venice I could not resist to add a picturesque bridge, a typical water canal and, of course, a gondola. And it could be the first modular set on shelves with direct access to the sea!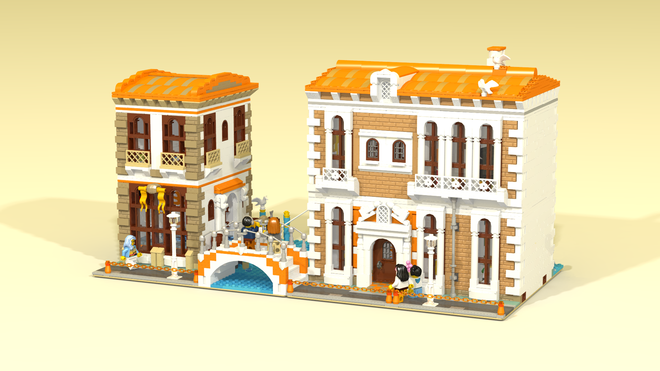 Follow and like Toys N Bricks: