Thank you to everyone who entered the raffle, we hope you had lots of fun! There were a total of 32 entries for our LEGO Halloween Raffle. Out of those 32 entries, 26 people got it correct.
The correct answer is the LEGO Muji theme and the lucky winner for our LEGO Halloween 2011 Raffle turns out to be forum member peanut from the United States! Congratulations, you will be receiving the 2 minifigure magnets shown belown!
LEGO Black Falcon Bricktober 2010 Minifigure Magnet (4613832)
LEGO Classic Spaceman Minifigure Magnet (2855028)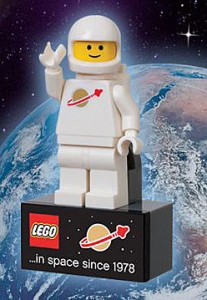 If you didn't win this time, we do have lots of other winning opportunities like our Holiday LEGO Building Contest 2011. In that contest, there will be a total of 4 winners and all of the sets are exclusives/limited edition!
*Prizes and shipping are 100% sponsored by Toys N Bricks. Winners will be contacted with details on how to claim their prize.
Follow and like Toys N Bricks: