Due to the amount of emails we've been receiving inquiring where to buy LEGO at good prices (for countries outside of US), we figured this post would serve as a guide for buying at BN.com (Barnes & Nobles). Below is a guide meant for those that are outside of the United States. If you are from United States, you will get FREE Shipping on orders above $25.
BN Shipping Rates
BN.com has very reasonable shipping rates for those outside of the United States. (if your from United States, you get FREE Shipping) They have a good LEGO selection and doesn't charge a premium shipping rate like 3rd party US shipping service providers. Listed below are the shipping rates for worldwide. What makes it even better is that the rates are still the same regardless of how big the item is. So the bigger the item, the better the deal!
United States: FREE Shipping on Orders above $25

Canada: First Item $6.48, Additional Items $2.49 each

International: First Item $12.98, Additional Items $5.49 each
BN Price Comparsion
We're not going to do every single set at BN.com with prices for each country, but will show you an example on the Queen's Annes Revenge set.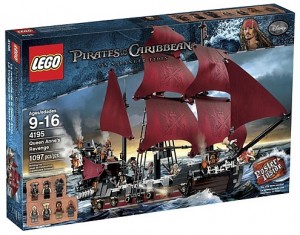 Take a look and see how much you are saving compared to buying from your local retailers. We did not list every single country but we assume that you get the point. As you can see, savings are around the 20-40% off range even though the prices are at US MSRP and you have to pay for shipping. *Prices listed below may differ slightly due to live exchange rates and does not include your country's tax. Currency updated as of July 28, 2011.
Queen's Annes Revenge cost $119.99 USD. Here are the conversion rates with shipping for the first item included. As you can see, Australia gets the biggest discount which also means that they suffer the most in paying MSRP prices.
Australia: 40% off – $120.97 AUD (retails at $199.99 AUD)

Canada: 20% off – $120.11 CAD (retails at $149.99 CAD)

France: 33% off – €92.65 EUR (retails at €139,90 EUR)

Germany: 29% off – €92.65 EUR (retails at €129,99 EUR)

United Kingdom: 21% off – £81.09 GBP (retails at £102.99 GBP)
Remember the example above is only for one item (you pay the highest shipping rate for one item). The more you buy, the better the savings because of the reduced shipping rate. Now do the math for yourself on the other LEGO sets at BN.com!
Follow and like Toys N Bricks: