Below is a brief history of Toys N Bricks and the work that we do as a hobby! Thank you to all of our readers, visitors and fans for the continued support. We hope you enjoy the site. ( :
Timeline of Toys N Bricks LEGO Fan Website
Site Growth
April 17, 2009: Toys N Bricks was founded

May 2009: Set Indexes were created briefly. However, they were shut down shortly afterwards as they weren't too popular and took too much time to create and maintain
December 2009 – Toys N Bricks Facebook Group and Twitter Fan Page Launched
August 2009 – Forums officially launched (created in May 2009)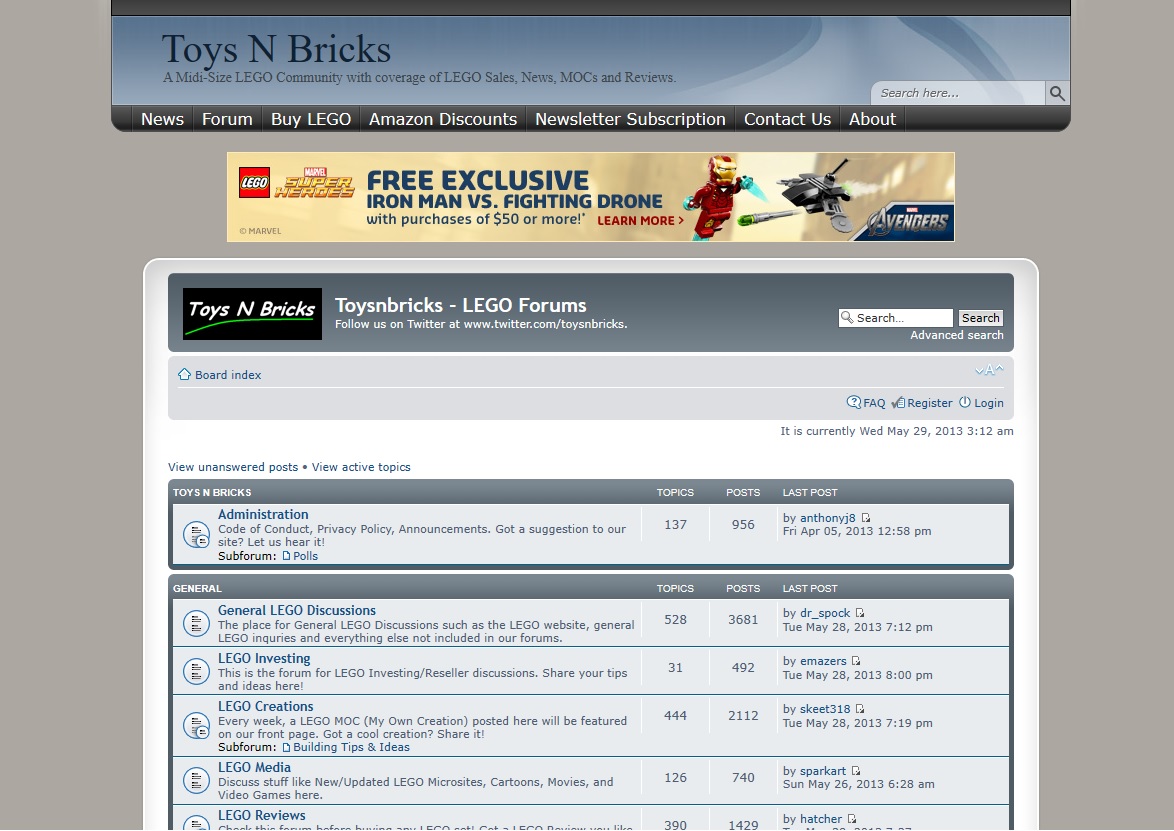 March 2010 – Flickr Group Launched
March 2010 – First Toysnbricks Sponsored LEGO Building Contest Launched (Create your own LEGO Star Wars Scene)
April 2010 – Newsletter Launched
May 2013 Toysnbricks Main Website Landing Page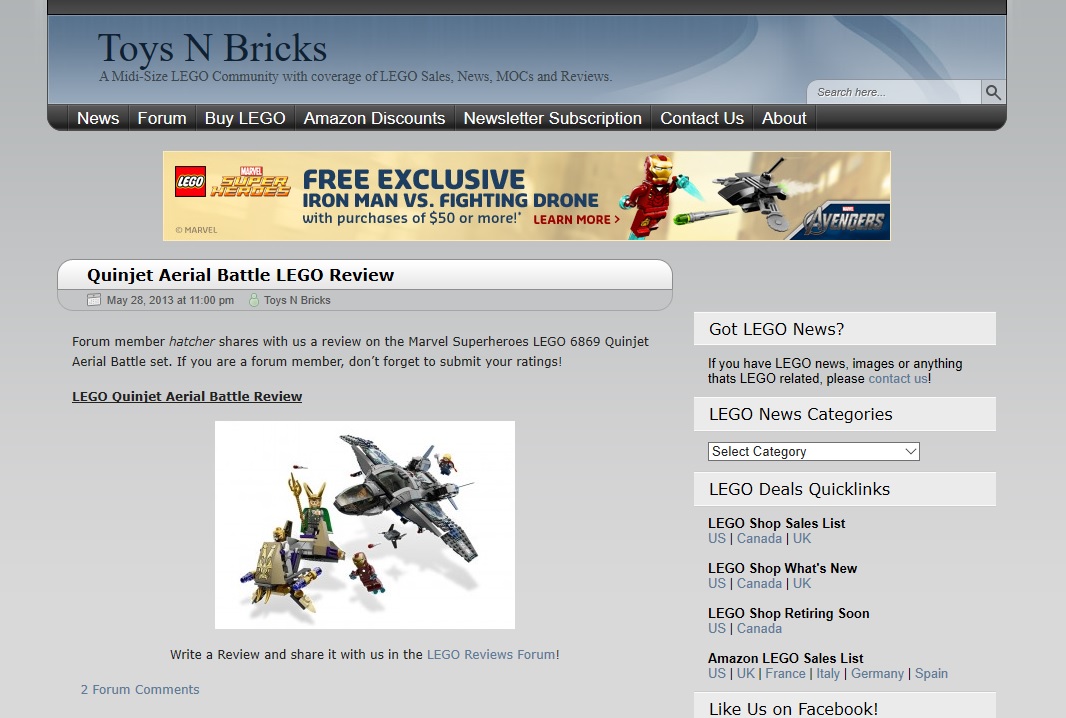 August 2012 – Pricenbricks.com Amazon USA Price Tracker Project launched providing current prices and previous prices
*2010-2012: Various other initiatives were launched including "Toys and Bricks" and "Sales N Bricks". Toys and Bricks was formed to offer different LEGO news coverage from Toys N Bricks. Sales N Bricks was formed in hopes to make it a dedicated LEGO Sales site while Toys N Bricks would focus on LEGO News. Both "Toys and Bricks" and "Sales N Bricks" were eventually scraped with everything going back to Toys N Bricks.
Site Decline & Deterioration
November 2016 – Pricenbricks.com Amazon USA LEGO Sets Price Tracker Project Shut Down. We are not allowed to track past price history. It was taking a lot of time for us to maintain it as well with adding new sets frequently.
January 2017 – Work on the site begins to decline, news updates decline, emails and messages not answered, categories on the news portal are merged, forum categories are merged
November 2017 – Toys N Bricks left the LEGO Ambassador Network
2017-2018 – Further decline in news updates and activity and consideration of closure of site
There were weeks and months where we had to abandon the site due to health issues we were facing since 2017. We considered closing Toys N Bricks. Fortunately, we decided to keep the site. Though, due to the inactivity that occurred in the last few years, site traffic is very low. The forum was pretty much dead starting in mid 2017. 2017-2018 were some of our worst years.
Most of our readers, fans, members and visitors have left and we don't blame them judging the decline in service. Rest assured though that we will continue to maintain the site moving forward starting in 2019. We will be focusing work primarily on the news page as that is the core of the site. The forum is dead as previously mentioned, but it will still continue to be accessible for archive purposes.
Recovery
We are starting from the bottom. New initiatives include rebranding and restructuring of how we deliver our service as well as our commitment to our readers and visitors. 
August 2018-March 2019: Financial restructuring to keep the site afloat
We cancelled the comments integration of the news site with the forums. The news site now has its own Disqus comments functionality that is separate from the forums.
January 2019 – Instagram Fan Page Launched
September 2019 – New Mainpage Website Layout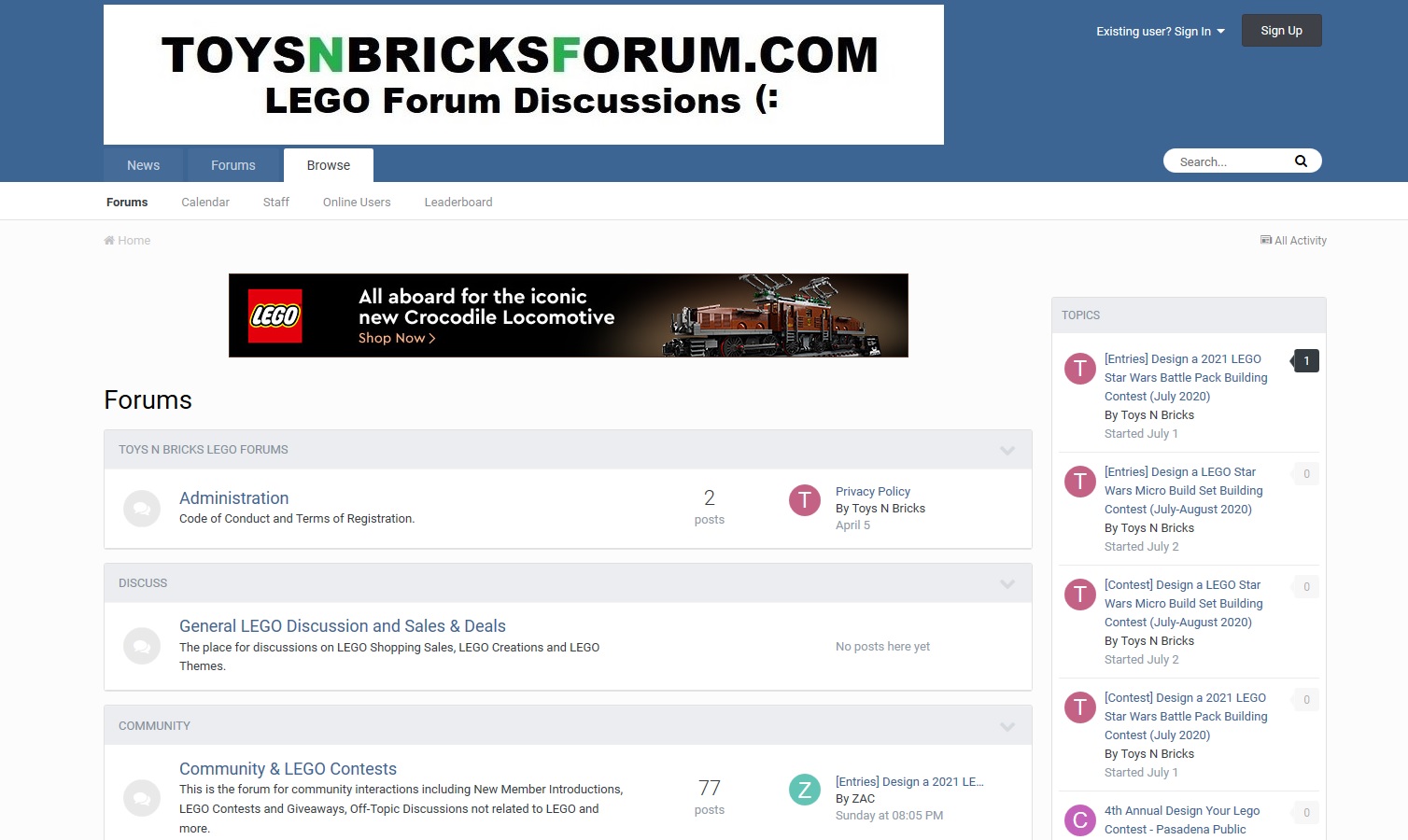 April 2020 – Launching back our popular LEGO Building Contests. This time, its the LEGO City Building Contest (April-June 2020)
February 2021 – Launching ShopToysnbricks.com: A place to shop for Toys N Bricks branded merchandise and more.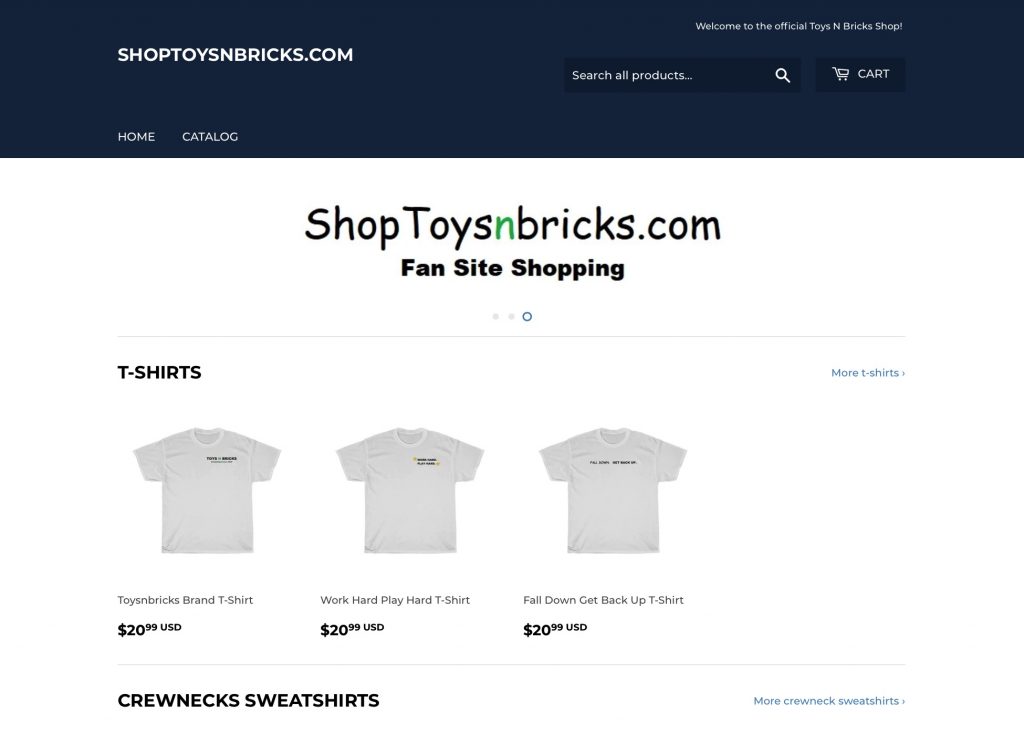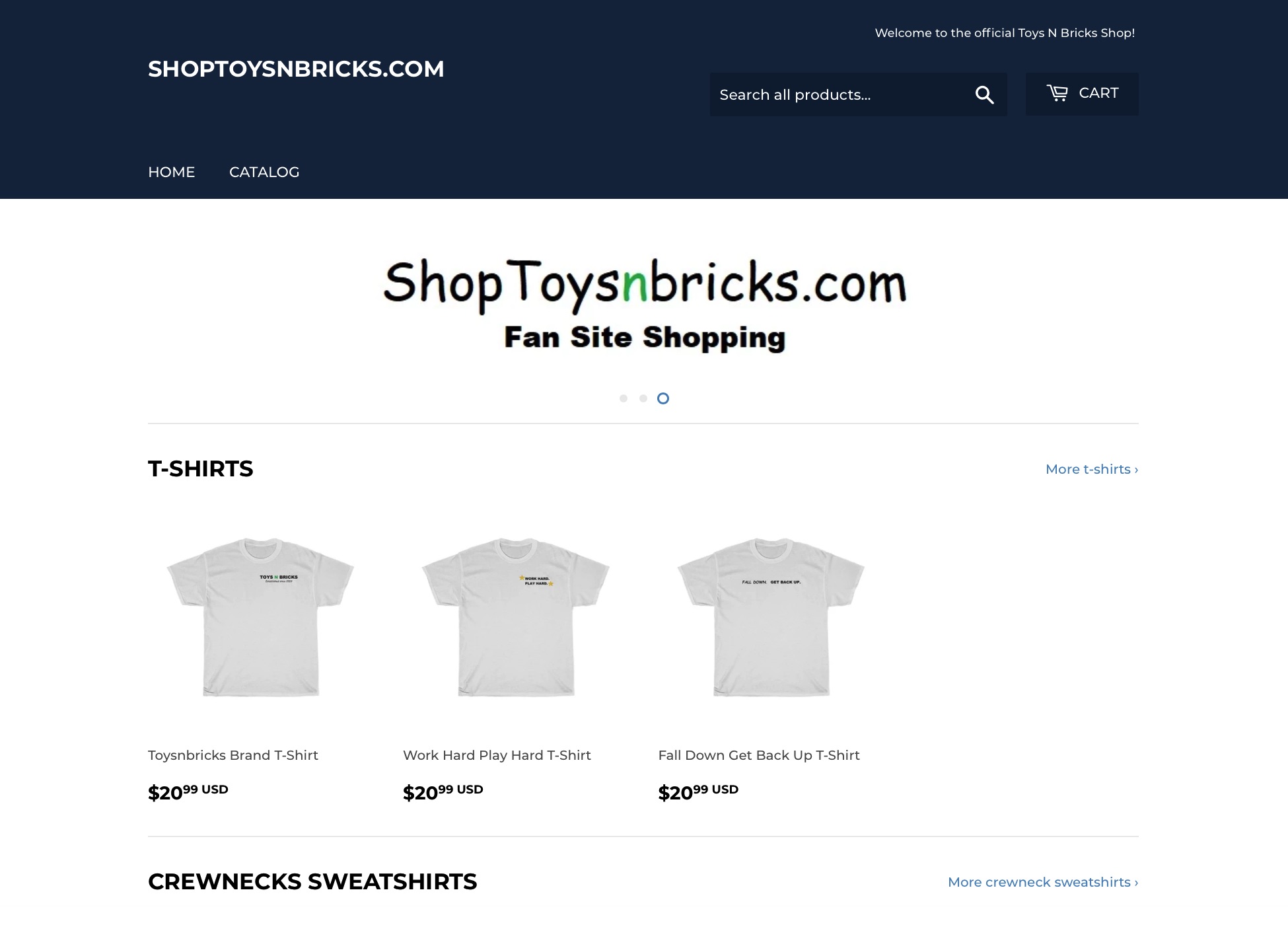 Toys N Bricks is your destination for the latest and hottest LEGO News, Sales News, Creations and Reviews! (www.toysnbricks.com)
Support Toys N Bricks by Buying Toysnbricks Branded Merchandise at ShopToysnbricks.com.
Subscribe for Free by Email and Follow Us on Facebook, Twitter, Instagram and Flickr.