This evening the newest LEGO exclusive, 10232 – Palace Cinema, was unveiled at 6pm EST in Birmingham, AL at Brickfair. No big surprise for this set as we've seen pictures quite a while ago! However, its great to know that LEGO isn't going to make this set the same price as Town Hall. The set will be available beginning March 2013 at LEGO Brand Stores and LEGO Shop at Home. Additional pictures available on our Flickr Photostream.
LEGO Expert Creator Palace Cinema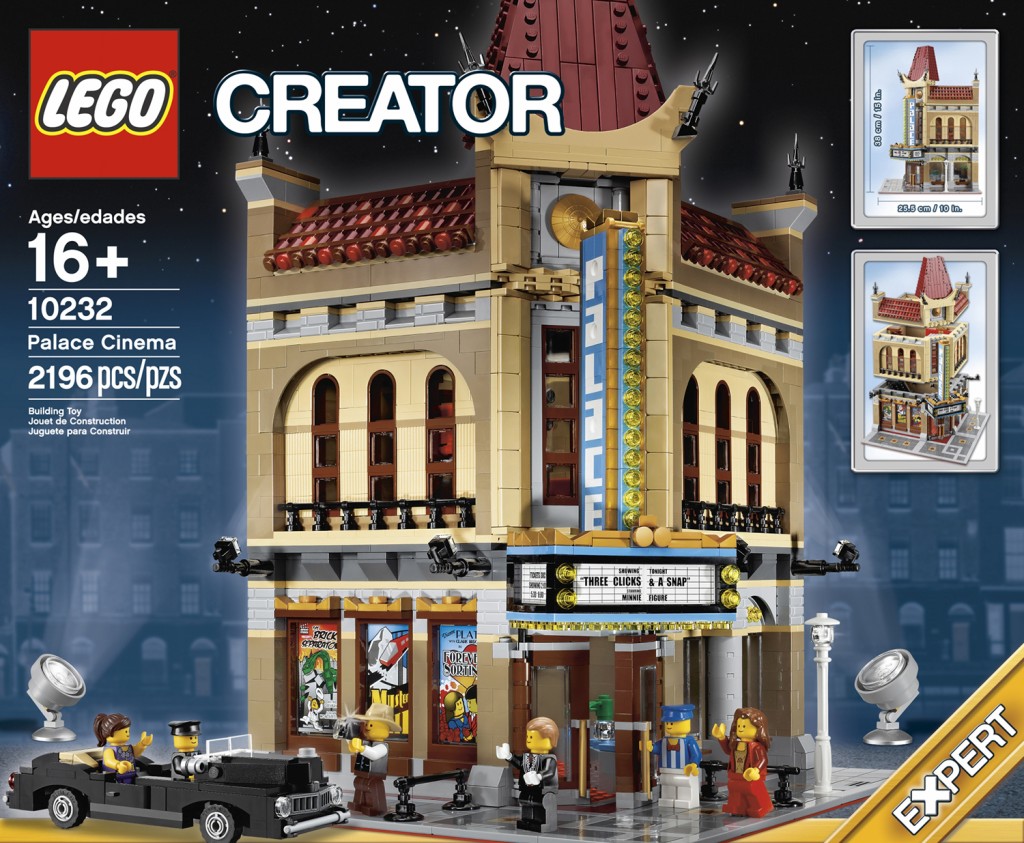 10232 Palace Cinema
US $149.99 CA $199.99 DE 139,99€ UK 119.99 £ DK 1,099.00 DKK
Ages 16+. 2,194 pieces.
Build a grand premiere at the Palace Cinema!
It's premiere night at the Palace Cinema! Illuminate the night sky with the spotlights as the child star arrives in a fancy black limousine! Gather the crowd on the star-studded sidewalk, then head into the detailed lobby with a concession stand and ticket area! Take the grand staircase into the theater with a large screen, movie projector and reclining chairs for 6 minifigures. Introducing the latest addition to the LEGO Modular Buildings series, the highly detailed, 2-story Palace Cinema corner building. This collectible model features a sidewalk of the stars, brick-built entrance doors, posters, sign frontage, a tower with spires and rooftop decorations. Includes 6 minifigures: child actress, chauffeur, female guest, male guest, photographer and cinema worker.
Includes 6 minifigures: child star, chauffeur, female guest, male guest, photographer and cinema worker
Features brick-built entrance doors, posters, sign frontage, tower with spires and rooftop decoration, lobby, concession stand, ticket area, staircase, big screen, projector and reclining seats for 6 minifigures
Vehicles include classic-style limousine
Hard-to-find elements include a red baseplate and dark tan, dark red, and gold pieces
Seat a 6-minifigure audience in the reclining seats!
Play on the star-studded sidewalk, in the detailed lobby or in the big-screen theater!
Collect and build an entire town with the LEGO Modular Buildings collection: 10224 Town Hall, 10218 Pet Shop and 10211 Grand Emporium!
Palace Cinema measures 15″ (38cm) high, 10″ (25.5cm) wide, and 10″ (25.5cm) deep
Limousine measures 1.6″ (4cm) high, 5.9″ (15cm) long, and 1.9″ (5cm) wide