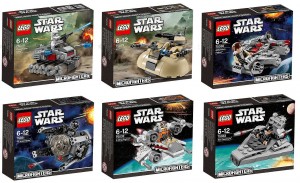 A new LEGO Star Wars line know as Microfighters will be launched in 2014. Six sets will be released and each one will contain a minifigure where the figure can actually be seated on the mini vehicle. Thanks to Hoth Bricks for the news.
LEGO 75028 Clone Turbo Tank
LEGO 75029 AT-AT
LEGO 75030 Millenium Falcon
LEGO 75031 Tie Interceptor
LEGO 75032 X-Wing Fighter
LEGO 75033 Star Destroyer
In addition, pictures for two other LEGO Star Wars sets have also been revealed. What do you think of the new LEGO Star Wars 75046 Coruscant Police Gunship and 75044 Droid Tri-Fighter? I don't think we've had Coruscant Gunship before so this is a new set, but we sure did have a few Droid Tri-Fighters before.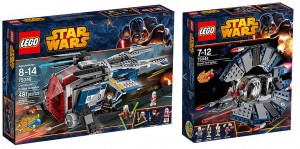 Follow and like Toys N Bricks: