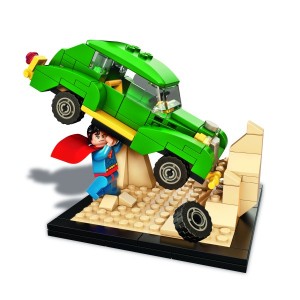 The 3rd San Diego Comic Con 2015 LEGO exclusive set has been revealed! It will be a LEGO Superman set based on the front cover of Joe Shuster's Action Comics #1 Superman that was released back in June, 1938! The set is labeled for ages 8-14 and contains 145 pieces. Price is $39.99. You will need to first enter into a draw. If you got drawn, you would then be able to purchase the set. Thanks to Josh and Jeremy for writing in with the news. (via
Collider
)
LEGO DC Comics Super Heroes Action Comics #1 Superman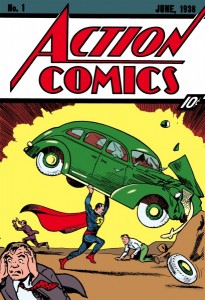 How to get the set at SDCC 2015
LEGO SDCC Retail Exclusives: Winning ticket required for purchase
You must first enter the drawing by picking up a ticket (see below) and then attendees go to the LEGO booth to redeem their ticket if they have a winning ticket and purchase the set at the LEGO booth. The LEGO booth will be located in Hall D, booth #2829.
Ticket Drawing Location: Pavilion Terrace (Upper level outside Sails Pavilion).
Attendees must first enter the main Convention Center entrance from the line at the front of the main building. Entry to the LEGO retail drawing at the Sails Pavilion will be from this line. Depending on the crowds, this line may start moving as early as 7:00am until supplies last.
Location includes multiple stairs. ADA attendees with mobility issues should go to the lobby B doors and use the glass elevators for access to the Sails Pavilion. They will be let up to the Sails Pavilion at the same time as the rest of the attendees.
•Attendee badges onlyOne drawing per person, per day
•Handicapped participants are encouraged to utilize official SDCC placeholder
•Random drawing is for a chance to get a ticket to purchase at the LEGO Booth
•Sets will not be distributed at the Pavilion Terrace
Must redeem ticket that day