Amazon America has a new 66635 LEGO Marvel Super Heroes Super Mech Pack 3 in 1 Combo Pack for sale. It contains LEGO 76140 Iron Man Mech, 76141 Thanos Mech and 76146 Spider-Man Mech. There are 452 pieces in total. Price for the combo set is currently $39. Though, if you buy each of these sets individually, they cost $9.99 USD each. That means the actual value is about $29.97 USD.
LEGO Super Mech 3 in 1 Pack 66635 is currently number 61 on the Amazon LEGO Bestsellers List. Free shipping on orders above $25.
LEGO 66635 Marvel Super Mech 3 in 1 Pack Description
Join Iron Man to protect the world from evil villains and alien invaders! Need some extra firepower? Put the armored Avenger into the cockpit of the Iron Man mech! Nothing stops this extra-large, high-powered mechanical Iron Man… Go anywhere! Grab anything! Remove anyone who gets in your way! Unleash kids' inner superhero with this Iron Man mech LEGO building toy – with stud blaster, movable limbs and an Iron Man minifigure to fit inside. Are you brave enough to thwart the evil Thanos? When the super villain enters the cockpit of his gigantic mech, he's crazier and deadlier than ever! And with 6 Infinity Stones on his Infinity Gauntlet, Thanos rules supreme. Will the terrible Titan succeed in his mission to wipe out half the population of the universe? Only you can decide! Adventure awaits superhero kids with this cool, buildable LEGO toy as they take on the Marvel Avengers movie's Thanos – and his super-sized mech. Swing through the city with Spider-Man! Protect the world from evil villains! And when you need more size and strength, put the young webslinger into the cockpit of his Spider-Man mech. Once inside this gigantic mechanical spider-robot, Spider-Man can go anywhere, grab anything and shoot massive webs! Villains beware… Spider-Mech is coming for you! Give kids bigger, better superhero adventures with this buildable LEGO Spider-Man mech buildable toy, with movable limbs and a Spider-Man.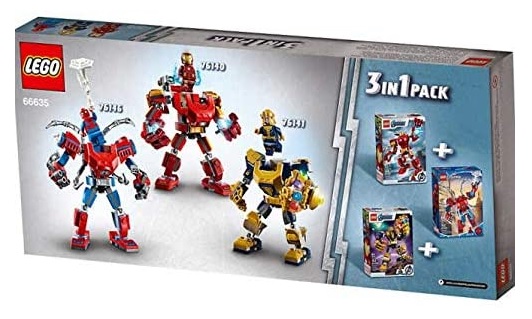 Toys N Bricks is America's greatest destination for the latest and hottest LEGO News, Sales News, Creations and Reviews! (www.toysnbricks.com)
Visit the new 2020 Toysnbricks LEGO Forums for LEGO Related Discussions. Registration is free.
Subscribe by Email and Follow Us on Facebook, Twitter, Instagram and Flickr.
As an Amazon Associate, Toys N Bricks earns from qualifying purchases.
Follow and like Toys N Bricks: