Wal-Mart Canada is now selling their exclusive Duplo LEGO 10865 Fun Creations and Classic LEGO 10715 Bricks on a Roll for $30 each. Sale prices valid from March 22-28. It appears that the Classic LEGO 10715 Bricks on a Roll set is only available for sale at Wal-Mart while the Duplo LEGO 10865 Fun Creations is available for sale at both LEGO Shop at Home and Wal-Mart. Regular price at LEGO Shop at Home is $39.99 though.
Classic LEGO 10715 Bricks on a Roll
Create all kinds of vehicles, from a wheelchair to a horse and cart, with this special LEGO® Classic set, featuring a wide selection of wheels and tires in a variety of colors and sizes. This set also comes with a selection of LEGO pieces including bricks, shapes and eyes. From a skateboard or ice cream cart to a 4×4 with caravan trailer, the Bricks on a Roll set will get your wheels of creativity turning!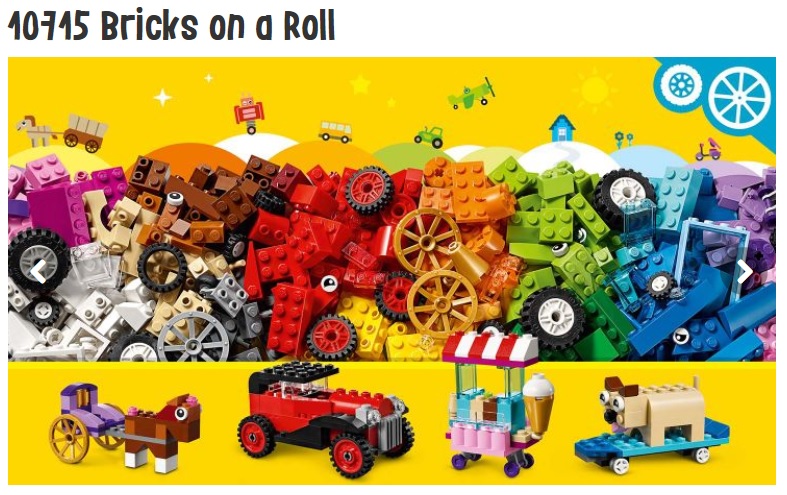 Duplo LEGO 10865 Fun Creations
Inspire endless creativity with this big pile of brightly colored LEGO® DUPLO® bricks! Build a rainbow of models, like a whale, a penguin, a little boat or a plane. There's so much to make in this versatile set that helps develop fine motor and construction skills. Play out stories and adventures with your child's creations—they will love to talk about the different colors and shapes as they play with this great preschool toy.
Features 70 colorful LEGO® DUPLO® pieces in different shapes and sizes.
Includes a propeller, traffic cone, swirl, flowers and a boat element.
This set provides endless building options to help little imaginations flourish.
Help your toddler make a popsicle, a rabbit, a crown… or anything else they can think of!
Share out food creations, care for animal models or zoom around all day with little vehicles!
Block colors together to make a rainbow of models, aiding sorting and early color recognition skills.
Develop early building and fine motor skills with this versatile preschool toy.
A great gift to supplement any LEGO® DUPLO® collection.
LEGO® DUPLO® products are specially designed to be fun and safe for small hands.
Suitable for ages 1½-5.