LEGO has recently finished their review stage of the LEGO Ideas creations that reached 10 000 supporters. This is the first time that this has ever happened. A variety of reasons why none of the sets passed the LEGO Review stage are noted below:
Perhaps we can't come to an agreement with the companies who own the Intellectual Property rights to the models or characters involved, or it is possible companies are just not interested in having a LEGO version of their product.
Other projects sometimes come too close to a number of the products that the LEGO Group already has today or has plans for the near future.
Some projects can challenge the rules we have on safe and good building experience for all LEGO builders. We can also have difficulties simply producing some of the larger projects with the production capacity we have for LEGO Ideas.
However, the LEGO Ideas creation F7A Hornet by Star Citizen may still have a chance as LEGO is still reviewing possibilities to make it into an official LEGO product.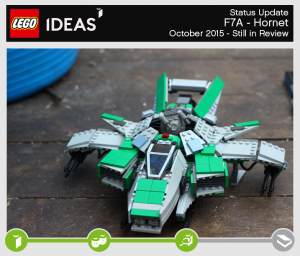 The second 2015 LEGO Ideas creation wave will be reviewed by the LEGO. Results will be available beginning early 2016. Hopefully, a few creations will be approved to become the next official LEGO Ideas set!