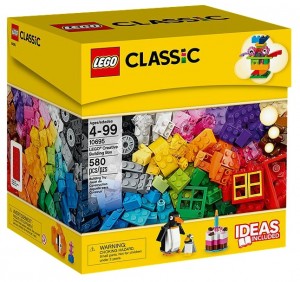 Launched under the LEGO Classic theme, 10695 Creative Building Box is a new product that contains 37 different colored bricks with building ideas. This product is currently only available in the European market. In England, it is priced at £19.99. It contains 580 pieces along with instructions on some LEGO ideas. If you are living in America, forum member Joranthalus informs us that the set is now available for purchase at Walmart.com (store pickup only).
LEGO 10695 Classic Creative Building Box
Create your own building fun with this great set for all ages!
Take inspiration from a box full of LEGO® bricks in 37 different colors! There are so many ideas and possibilities, whether you're a creative expert or just finding your feet. Special pieces including a door, window, wheels, eyes and a rotor will help to inspire builders of all ages, and help make this set a great addition to any existing LEGO collection. The LEGO Classic Creative Building Box also includes some instructions to help you get started… So get building!
Includes a wide range of LEGO® bricks in 37 different colors
Special pieces include 4 sets of eyes, a door frame, door, window frame, 2 windows to fit in the frame, 4 tires, 4 wheel rims and a rotor
LEGO® Classic is designed to inspire open-ended creativity with the LEGO brick
Special pieces encourage imaginative building
All models pictured can be built from this set simultaneously
Ideas included with the set and online at LEGO.com/classic to help you get started
Includes a brick separator and comes in a sturdy storage box
LEGO® Classic sets are an ideal supplement to any existing LEGO collection