The upcoming picture for LEGO Lord of the Rings 79007 Battle at the Black Gate has been revealed at the online Sears Canada website earlier this morning. Contains 655 pieces. Price is $74.99 CAD which usually translates to $59.99 USD. Available June 2013. Thanks to forum members josephliyen, Heats33, just2good and everyone else who emailed us regarding this.
LEGO 79007 Battle at the Black Gate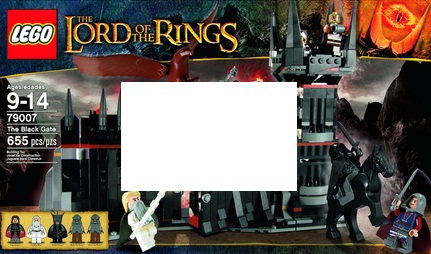 LEGO Lord of the Rings Battle at the Black Gate Product Description:
Fly the Great Eagle high above the Black Gate of Mordor where Aragorn and Gandalf the White must distract the Eye of Sauron. Use them to stage a scene while Frodo Baggins and his friend Sam throw the One Ring into the fiery depths of Mount Doom and destroy it forever. To reach the Ring's final destination, you must defeat the Mouth of Sauron and the Mordor Orcs positioned high in the spiked gate walls. Then breach the gate and lead the attack on the enemy! Includes a Great Eagle and 5 minifigures with weapons: Aragorn, Gandalf the White, Mouth of Sauron and 2 Mordor Orcs.
Sears Canada Availability | Lord of the Rings Set Discussion
Follow and like Toys N Bricks: