LEGO Shop at Home (USA | Canada | UK | Australia) now has a new section dedicated for adults. It is known as LEGO Adults Welcome. You can see the new LEGO Adults Welcome page here: USA | Canada | UK | Australia. Before in the past, there was not really a single page dedicated for LEGO Adults. It was scattered everywhere with products from LEGO Architecture, Creator Expert, DC Comics Super Heroes, IDEAS, Harry Potter, Star Wars and more.
Tip: Be sure to subscribe to the free Toysnbricks email subscription. You'll get LEGO news, new products updates, sales & deals updates, creations and reviews right in your inbox! Make sure to follow us on Facebook, Twitter, Instagram and Flickr as well. ( :
The LEGO Adults Welcome page are primarily LEGO 18+ and LEGO Hard to Find sets but also feature other popular sets such as LEGO IDEAS. These are very popular LEGO sets that are targeted towards adults. The popularity of these sets are also growing as LEGO continues to release more and more LEGO Hard to Find sets these days. However, it should be noted that some of these LEGO Adults Welcome sets are priced at a higher price point due to the size of the set. They are usually larger LEGO sets. Though, there are some sets that are priced at a more affordable price including sets like LEGO 10281 Creator Bonsai Tree for $49.99 USD / $69.99 CAD.
On the "About Page", there are some featured LEGO 18+ Adults sets. There are also some articles on the LEGO Adults Welcome Page giving you information and tips to help you get the best LEGO experience. There's LEGO mindfulness and more.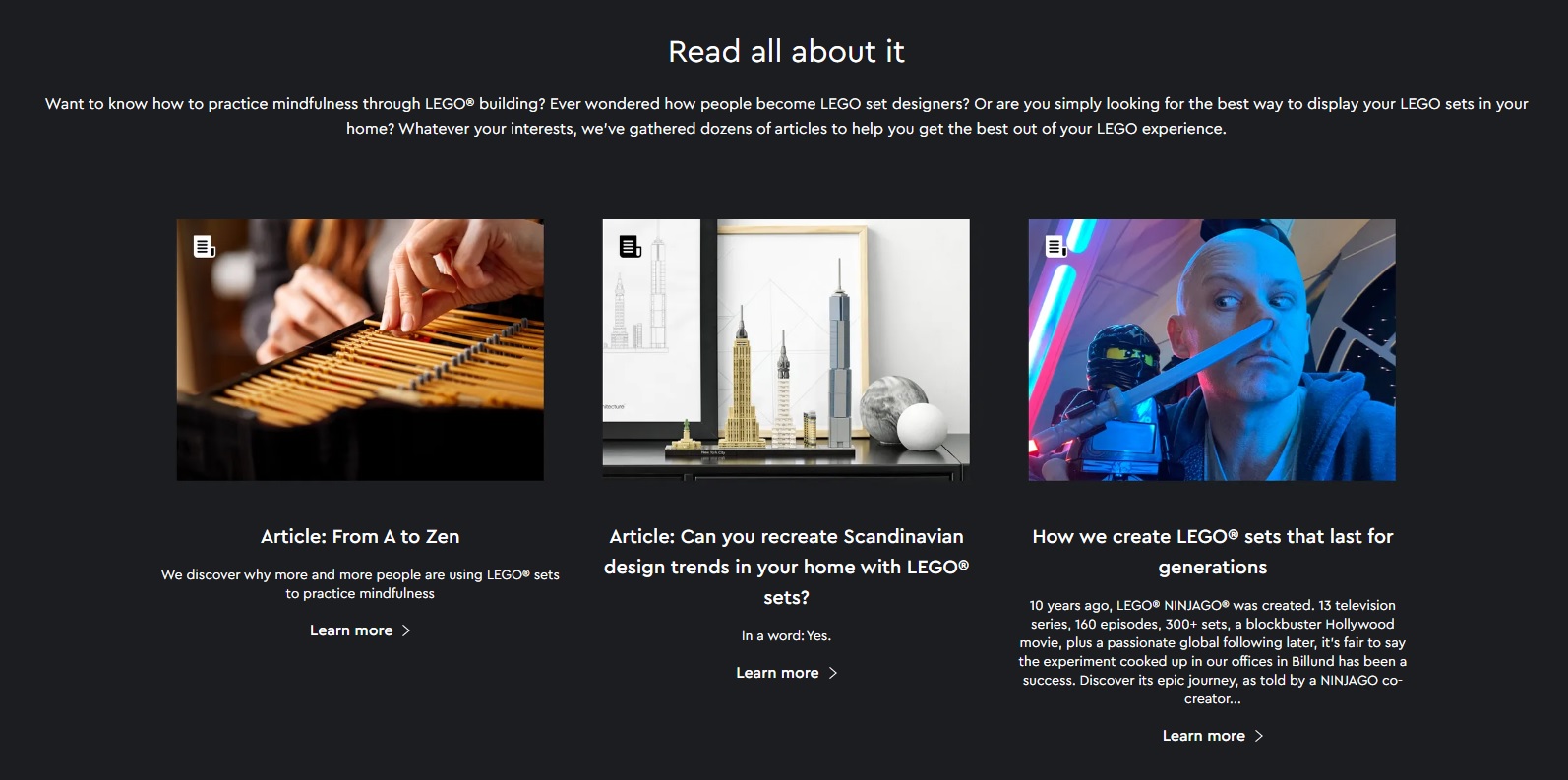 If you click on the "Product Page" at the top, there are 84 LEGO Adults sets. They come from a variety of different LEGO themes including licensed sets, non-licensed sets, IDEAS and more. Some of the biggest and top LEGO sets include LEGO Creator Expert 10276 Colosseum, LEGO Star Wars 75192 Millennium Falcon UCS and LEGO Harry Potter 71043 Hogwarts Castle.
LEGO Shop at Home (USA | Canada | UK | Australia) offers free shipping on orders above $35 USD / $35 CAD / £50 GBP / $149 AUD.
Overall, its great that LEGO Shop at Home now has a dedicated page for LEGO Adults. It will make looking for the best LEGO sets a lot easier.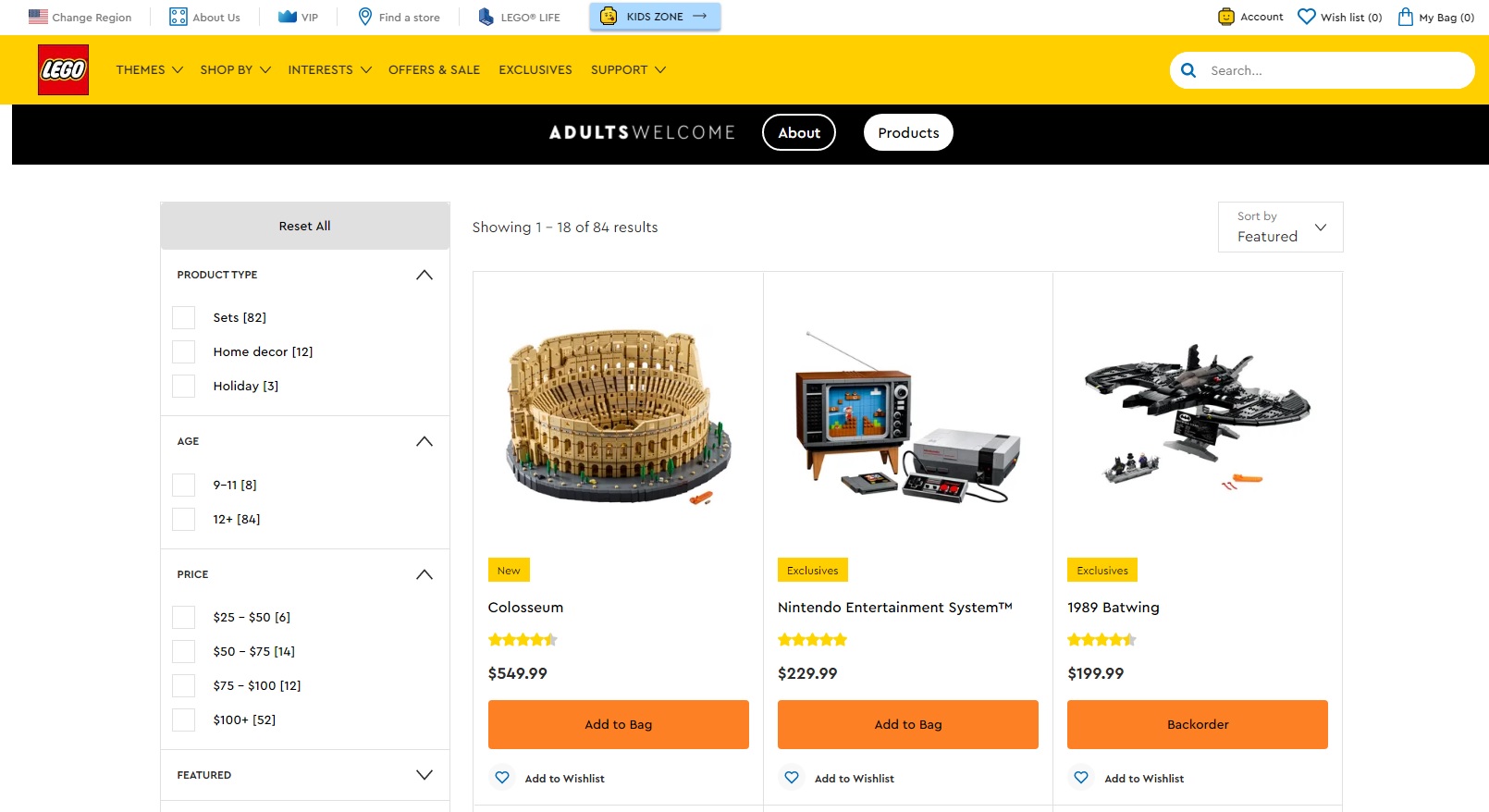 Toys N Bricks is your destination for the latest and hottest LEGO News, Sales News, Creations and Reviews! (www.toysnbricks.com)
Support Toys N Bricks by Buying Toysnbricks Branded Merchandise at ShopToysnbricks.com.
Subscribe for Free by Email and Follow Us on Facebook, Twitter, Instagram and Flickr.