Amazon France currently has quite a few good LEGO clearance deals. If you are outside of Europe, you get extra 16.4% off tax discount (shown during final stage of checkout). The Euro currency is also trading very low at the moment which makes the deals even better for those living in the UK or outside of Europe. ($1 USD = €1.24 EURO)
Price for a Portal Atlantis Set
USA/Canada: €30,09 + €9,24 = €39,33/~$49 USD (reg.$99.99) – Thats 50% off!
Outside of Europe: €30,09 + €27,67 = €57,76
Europe: €35,99 + Shipping (price may differ 1-2% depending on your country's VAT rate)
France: €35,99
Price for a Atlantis Exploration HQ set
USA/Canada: €16,05 + €8,06 = €24,11/~$30 USD (reg.$49.99) – Thats 40% off!
Outside of Europe: €16,05 + €24,61 = €40,66
Europe: €19,2 + Shipping (price may differ 1-2% depending on your country's VAT rate)
France: €19,2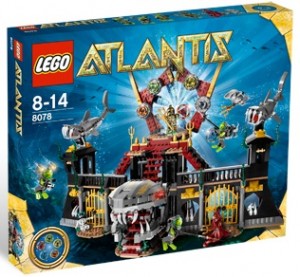 The European exclusive LEGO Star Wars Battle of Hoth game is also finally on sale at Amazon France for €28,07. There's better prices at Amazon UK and Italy, but they don't ship worldwide. As the set is not available for purchase in North America, this might be a good time to pick it up with the 16.4% tax discount and low Euro exchange rate. Don't forget if you live in America, you won't get taxed as well!
Price for a Battle of Hoth Game (North America)
1 Battle of Hoth: €23,47 + €7,04 = €30,51
2 Battle of Hoth: €46,94 + €7,82 = €54,76 (€27,38 each)
3 Battle of Hoth: €23,47 + €8,59 = €79 (€26,33 each)
Tip: Don't forget that the more you buy, the better the deal as shipping is only very heavy for the first item! More of Amazon France's hottest LEGO deals can be found here.