The first ever LEGO Fan Expo is coming to Canada from August 28-31 and here's a sneak preview at the upcoming exclusive set! This is a Canada LEGO Fan Expo exclusive and will feature Kanan Jarrus minifigure. LEGO Star Wars The Ghost Starship will be available for purchase during the expo at the LEGO Booth #748, while quantities last. The set contains 134 pieces.
LEGO Star Wars Rebels The Ghost Starship (LEGO Fan Expo Canada 2014 Exclusive set)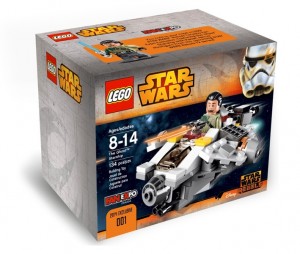 You may have heard the news…something special is coming to Canada!
Come August 28 – 31, 2014, more than 100,000 people will gather at the Metro Toronto Convention Centre for a weekend of fandemonium, otherwise known as FAN EXPO Canada™.
For LEGO®, the event is about the fans – it's an opportunity to engage with builders of all ages and offer a fun interactive experience that is unlike any other in Canada. Because YOU are some of the most loyal fans of LEGO, we are offering an advance sneak peak of the FIRST EVER LEGO® FAN EXPO Canada™ Exclusive. This limited edition LEGO® STAR WARS™ Rebels set features The Ghost™ Starship with Kanan Jarrus™ Minifigure from the upcoming STAR WARS™ Rebels TV series.
The set is ONLY available at the LEGO Booth #748 between Thursday, August 28 to Sunday, August 31, 2014, while quantities last. Tickets will be distributed at the booth on a first come, first serve basis when the show floor opens to the public. Quantities will be limited per day and only one LEGO® FAN EXPO Canada™ Exclusive per customer per day. A valid ticket will be required for purchase.
For a chance to win one before the show, please check out http://fanexpocanada.com/contests/ for more details!