The latest LEGO Ideas Project Creation to achieve 10 000 supporters is LEGO Ideas Project Creation Medieval Market by CARLIERTI. Congrats! Your project would now be headed to the LEGO Ideas Review stage where it would be evaluated to potentially become the next official LEGO Ideas set.
LEGO Medieval Market Project Creation Description
I'm a big fan of the medieval theme and fascinated by all kinds of modular buildings, so I went to this idea pretty quickly. In total, the model contains approximately 2500 bricks and is divided into 4 parts, which you can take away in order to access the interior of the building and play with the Lego figures. On the ground floor, you will find the tavern, main dining room, and exterior market place. The second floor with the living rooms is accessible from the street directly thanks to the big stair. The big stair divides the building into two parts which makes it more interesting for the organization of the rooms inside. The last floor is mainly used as a warehouse. This project includes a total of seven different lego figures.
I tried to make the facade of the building as realistic as possible, with wood planks and stone construction for the ground floor. However, I decided to apply some various patterns and colors on each side and floors to make it more interesting and to avoid having a monotonous building.
The project has been build on LDD and Mecabricks – rendered on Blender. Special thanks to Mecabricks for this amazing platform and rendering tool!
10'000 supporters can make this project a real lego set: so click on the blue support button and the magic will happen. Also, show your support with your friends and family if you like it!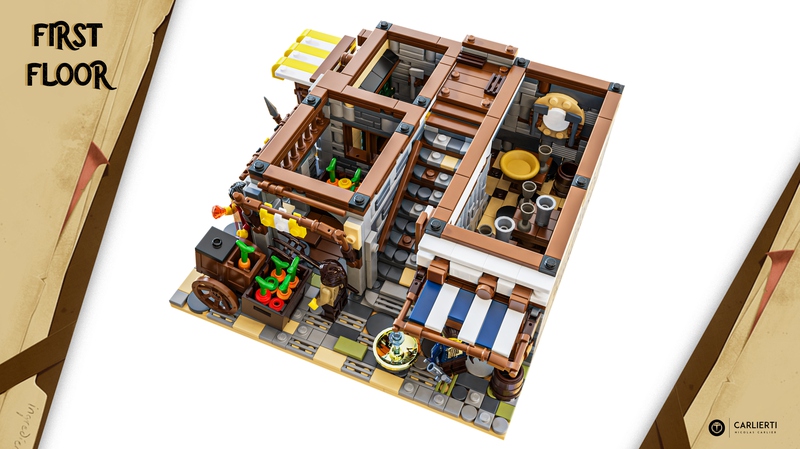 Toys N Bricks is your destination for the latest and hottest LEGO News, Sales News, Creations and Reviews! (
www.toysnbricks.com
)
Visit the new 2020 Toysnbricks LEGO Forums for LEGO Related Discussions. Registration is free.
Subscribe by Email and Follow Us on Facebook, Twitter, Instagram and Flickr.