Forum member Legobrandon informs us that the same user has posted another youtube video. It appears that there will be a new theme known as LEGO Monster Fighters and 6 LEGO Monster Fighters sets will be released for Summer 2012. Thanks to the video, we now have most of the set names for these upcoming LEGO Monster Fighter sets.
This theme appears to be more towards Adventure, Halloween and Vampires. Very likely that this new theme will replace the current LEGO Pharaoh's Quest line. The pictures also shows that LEGO will be re-using a few of the Series Minifigures like Vampire, Frankenstein and Scientist minifigures. These are still preliminary so nothing is set in stone yet though.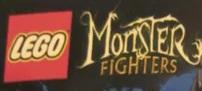 LEGO Monster Fighters Sets
LEGO 9468 Haunted House Castle?
LEGO 9467 Ghost Train with Propeller Plane?
LEGO 9466 Scientist Lab?
LEGO 9464 Vampire Truck?
LEGO 9463 Werewolf Attack?
LEGO 9462 Skeleton Carriage?
LEGO 9461 Weird looking Green Guy Ambush?
Follow and like Toys N Bricks: