The LEGO Store Calendar for July 2012 is now out for Europe! Most worth of mention for next month would be the release of the LEGO Olympic Minifigures (in celebration for the 2012 London Olympics)! Available starting July 1st at your local LEGO Brand Store. They mention that it won't be around for long so these 8909 Team GB Minifigures are probably available only in limited numbers.
*All event dates and prices are in reference to England.
LEGO Sales
Free mini sopwith comel polybag set w/£50 purchase (July 1-31)
25% off city accessory pack with a $50 Lego City Purchase
LEGO Events
July Monthly Mini Model Build is a Olympic Torch Model (July 5)
LEGO Olympic Games Event (July 13-27)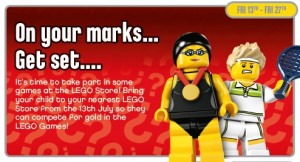 LEGO Pickable Model July 2012
This month's limited edition pickable model will be a Zoo Keeper. Available on the first day of the month, while supplies last.
For more details and to verify the event dates/prices in your country, you can check out the complete LEGO Store Newsletter here: United Kingdom | Germany | Denmark.