Are you a LEGO Technic fan? If so, you don't want to miss out on this neat contest from LEGO! Complete details available at the LEGO site.
Exclusive LEGO® Technic Design Competition: You design it – We make it!
You are invited to take part in the most exciting competition in LEGO® Technic history!
Design a special top for our new 4×4 Crawler!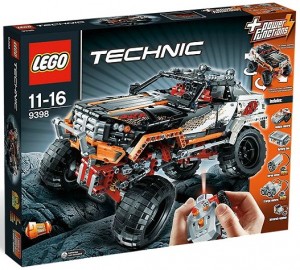 You can do it!
New to LEGO Technic? Or a seasoned veteran builder with a basement full of elements? Not important. We've got the chassis, so if you have a great idea for an awesome design to go with it, don't let anything hold you back!
Upload a picture of your design to the LEGO Technic Co-Creations Gallery. You can draw a model, use paper, sticks and glue, LEGO, or something completely different.
The prize
If you win, you can call yourself an honorary LEGO Technic Designer! We help you get the complete Technic design and building experience perfect. And the best part? We produce 20,000 of your unique model as exclusive collectibles!
You can find all the details on how to enter, tips and inspiration, and pictures of the chassis you need to use on LEGO.com.
The competition is open until midnight, December 31, 2012. But hurry – – you need time to get enough votes to make the top 100 and be considered for the final!
We can't wait to see your creations! -The LEGO Technic design team
Follow and like Toys N Bricks: