Note: This is a repost from our May 26, 2021 article. We will be working on the transition in the next few days before the end of the month.
Starting in July 2021, Google is unfortunately ending the Feedburner Email Subscription service. They are shutting down most non-core feed features. It is probably taking up too much of their system resources with the email services. The existing Google feed will continue to be functional.
To ensure that we continue to deliver emails with our LEGO news updates, Toys N Bricks will be moving to a new email subscription service platform at Follow.it next month. Below is a sample email from Follow.it with our LEGO news updates. If you do not want to transition from Google Feedburner emails to Follow.it emails, please unsubscribe from the Google email service. If you unsubscribe, you will no longer receive any email updates from Toys N Bricks.
Over the next few days in June 2021, we will begin transitioning our email subscribers from Google Feedburner to Follow.it. No action is currently required from our subscribers at this point in time. If you would like to get emails sooner from the new platform at Follow.it, you can sign up for the new email subscription here. Until July 2021, Google will continue to send Toys N Bricks LEGO News updates from the Google Feedburner Email Subscription service.
Thank you to all of our subscribers, readers, visitors and fans for the continued support in Toys N Bricks. (: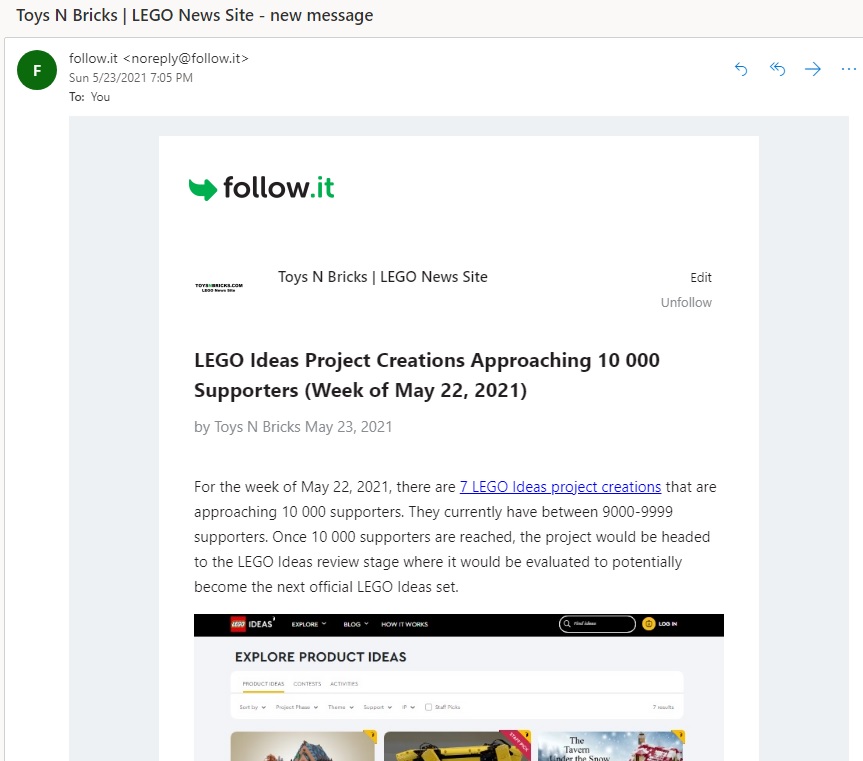 Toys N Bricks is your destination for the latest and hottest LEGO News, Sales News, Creations and Reviews! (www.toysnbricks.com)
Support Toys N Bricks by Buying Toysnbricks Branded Merchandise at ShopToysnbricks.com.
Visit the Toysnbricks Forums for LEGO Discussions. Registration is free.
Subscribe for Free by Email and Follow Us on Facebook, Twitter, Instagram and Flickr.
Follow and like Toys N Bricks: